Check out the newest products as seen in the JUNE 2023 issue.
Matrix Fitness
The Ultra Series with Intelligent Training Console can set a facility apart with a guided, connected strength training experience that helps newcomers get started and enthusiasts shatter limits. The intuitive touchscreen makes it easy for members to define physical transformation targets, receive step-by-step instructions and identify their benchmark weight. Then members can take on personalized progression programs that will help them reach their goals in smart new ways. With convenience features such as single-point user login, touch-free RFID login and stored seat settings, members can easily start a workout, transition between equipment and review previous workouts to chart their development, maximizing their time invested and results. The Matrix Wi-Fi-enabled console also works seamlessly with the digital portfolio of Connected Solutions, including Engage 360, Community 360 and Asset Management.
www.matrixfitness.com | info@matrixfitness.com | (866) 693-4863

---
Perform Better
This year, Perform Better has launched its new Floor-Mounted Nordic Hamstring. The compact design has a floor plate that mounts into the floor, allowing users to perform Nordic hamstring curls without taking up a lot of floor space. Once it is installed, users just slide their feet in and start working. When mounted in front of a cable column, the unit allows for both assisted and resisted exercises. Its adjustable foot plate raises and lowers easily, making it great to accommodate all users. Each unit comes with an assist strap, which can be connected to cable column arms and around the athlete to help maintain form throughout the movement.
www.performbetter.com | (800) 556-7464

---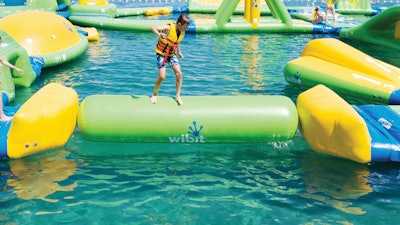 Recreonics Inc.
The Wibit Logroll is the perfect addition to any Wibit modular pool combination and provides a special thrill. To make it across, users have to keep their balance on a moving surface. The rotating piece makes walking on the Logroll a shaky matter that can send users into the water at the slightest inattention.
www.recreonics.com/product/wibit-logroll-play-product | sales@recreonics.com | (800) 428-3254

---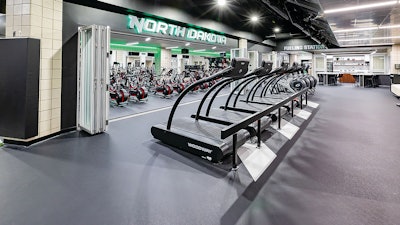 Mondo
Mondo's new vulcanized rubber flooring, Mondo Valor, withstands the weights and equipment used in intensive strength and conditioning, making it ideal for weight rooms and fitness centers, as well as locker rooms. Its wear layer ensures consistent performance, and an enhanced design and unique texture guarantee excellent foot stability and outstanding comfort. GREENGUARD Gold-certified, Mondo Valor is available in nine colors in 6- and 10-millimeter rolls, and in 18-mm 2-by-4-foot tiles.
http://bit.ly/3tYtLWd | mondo@mondousa.com | (800) 361-3747

---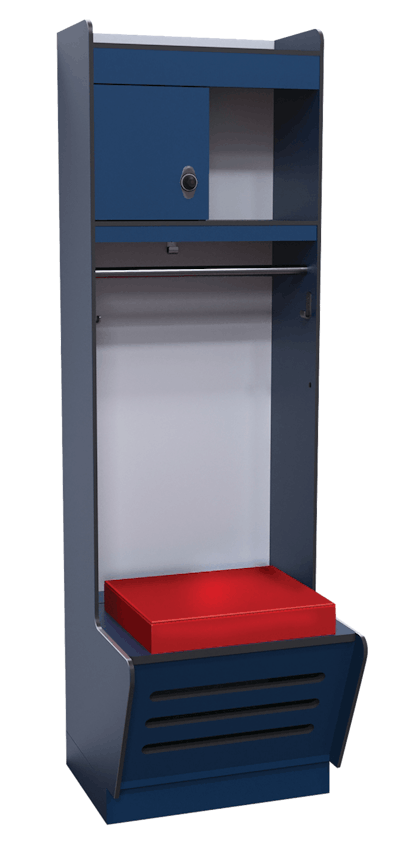 List Industries Inc.
VersaSport Phenolic Lockers from List Industries are the most durable lockers available and great for team locker rooms. Phenolic's unique non-porous surface eliminates the ability for mold, bacteria and mildew to grow, making it ideal for wet areas. The lockers are easy to clean, waterproof, graffiti- and scratch-resistant (pencil, pen, paint and most common markers). The VersaSport locker features an upper security box with lock options, a lower footlocker/seat and a convenient stainless steel coat rod. Available in many stock and custom colors and configurations.
www.listindustries.com
STT@listindustries.com
(800) 776-1342
---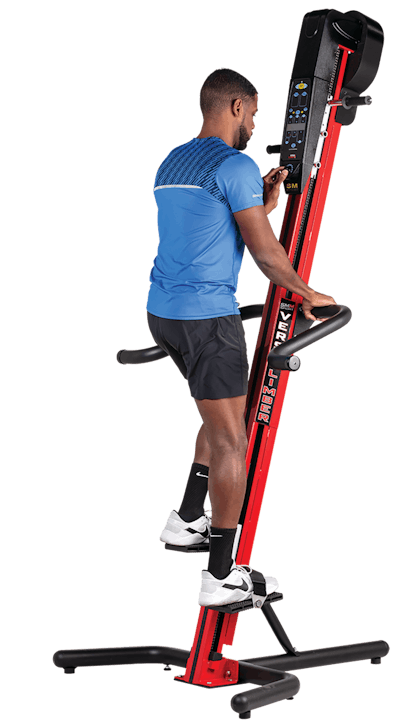 VersaClimber
As the leader in total-body vertical climbing since 1981, VersaClimber delivers highly efficient, effective, total-body, non-impact workouts that blast calories and fat. The new SM-M VersaClimber incorporates magnetic resistance for hyper-smooth movement. SM-M provides 11 pre-set resistance settings using the eddy current brake system that creates a non-friction form of resistance. The SM-M was designed with health club quality and durability in mind. VersaClimber is one cardio piece that does it all: step, walk, jog, sprint or climb vertically against gravity in a smooth, total-body, non-impact, effective rhythmic motion. It has been proven to burn the most calories in the least amount of time.
www.versaclimber.com
Info@versaclimber.com
(800) 237-2271