Control of equipment suspended from gymnasium ceilings has reached new levels of sophistication.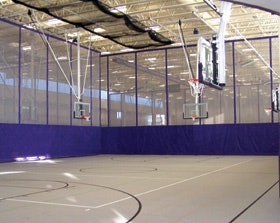 For all the action that unfolds on a gymnasium floor, the same gym's ceiling can be quite the kinetic place, too. In fact, if it weren't for retractable equipment suspended from above, far less efficiency would be realized in the storage of equipment or the staging of games and practices below.
To that end, the process of controlling the vast array of motorized winches used to raise and lower basketball goals, volleyball standards, gym divider curtains and batting cages has reached new levels of sophistication - with wall-mounted computer touch screens and keypads able to set multiple pieces of equipment in motion simultaneously where individual key switches were once turned one by one. "It has evolved so much over the past 10 years," says Bill Wild, vice president of sales and marketing at gym equipment manufacturer Jaypro Sports, which debuted its Easy Touch Equipment Controller (ETEC) two years ago at Buffalo (Minn.) High School. That particular system employs three touch screens to control 36 basketball backstops (including electronic height-adjusters on 24 of them), five divider curtains and two batting cages suspended above six full-size courts in one field house. Without ETEC, Buffalo's 40-foot-high backstops would take seven minutes apiece to key into position, according to Wild.
"One of the most frustrating things as a teacher, coach or custodian is to have to hold a key and wait for the baskets to come down one at a time," says BHS physical education instructor Kris DeClerk-Thompson, adding that the process can take a half-hour or more. "But when you're doing 12 baskets at a time, you're not standing there for very long."
The same goes for ceiling-suspended volleyball standards. In a matter of minutes, Sandy Harris, director of the Schaumburg (Ill.) Park District, can make the switch from four-court Saturday morning league basketball to a six-court afternoon volleyball tournament - a process that would take at least an hour if floor-mounted standards and nets were installed manually. And because her facility is rented out at up to $70 per hour, per court, every minute counts. "It's definitely a time-saver," Harris says. "It takes about a minute to bring the volleyball nets down. Plus, you don't have to account for storing all that equipment. It's all right up in the ceiling."
Time and space savings are just two advantages of today's gym equipment control systems. If properly coordinated within the planning stages of a new gymnasium, control systems can save the owner substantial investment in wiring installation. "It can actually save more in electrical costs than what it costs to purchase the system, because you can share hot circuits among multiple products," says Neal Turner, manager of gym equipment for Draper, which manufactures the Smart Gym touch-screen system. "For example, you can run six backstops off of one hot circuit. That's the real advantage of the system."
And there are economies of scale at play, adds Dan Morgan, vice president of sales and marketing for Porter Athletic, whose Powr Touch II keypad control is the choice of Schaumburg's Harris. "We've received quotes from independent electrical contractors, and the savings in wiring on a small gym with six backstops is about $6,400. In a big gym with 15 backstops, the savings is almost $13,000," Morgan says. "If the electricians know during the design phase that you're running low-voltage wiring down to these keypads, the gym owner is going to realize substantial savings, even though the upfront cost of the athletic equipment package is 15 to 20 percent higher." (Porter will introduce its own touch-screen system later this year, according to Morgan.)
Whereas key-switch systems (and subsequent wireless remote control technologies) allowed only one control function to engage one motor and one piece of ceiling-mounted equipment at a time, the latest circuitry makes possible the use of preset programming. A touch of the screen or a predetermined combination of keypad strokes can, for example, instantly set up a gym for a varsity basketball game - raising every piece of ceiling-suspended equipment save the two goals serving the competition court.
Systems can even be specified to control basket height, allowing quick conversion of cross-courts to youth-friendly mode. DeClerk-Thompson admits she doesn't miss the days of lugging a ladder out onto the floor and hoisting heavy goal-adaptor brackets up to the existing backstops in order to accommodate kindergartners and elementary school children. Buffalo High's new system adjusts heights on multiple baskets simultaneously. "When we set up the cross-courts for little kids on Saturday mornings, we just hit program number three, and the system automatically takes care of it," DeClerk-Thompson says.
When it's time to raise the cross-court baskets again, basket height automatically returns to 10 feet to avoid any potential collision of equipment pieces in their stored position. "That doesn't sound like much," says Wild, "but when you have all these backstops going up into the ceiling, there's oftentimes very little space for anything else."
If there is any drawback to the newfound convenience afforded by today's control technologies it is that they make the moving of gym equipment too easy, according to Wild, who has witnessed motors and cables wear prematurely in settings where system users have gone a bit conversion crazy.
Still manufacturers themselves can't help but ponder what's next. Integrated bleacher control? Automatic gym conversions triggered by preset programming schedules? Conversions dictated remotely (and wirelessly) from the athletic director's office via Ethernet technology? Ongoing safety issues may determine which ideas are set in motion and which never make it out of storage. While rendering keys obsolete, touch-screen and keypad units still require a security access code, a steady finger on the button to keep equipment moving, and the controller positioned within eyeshot of each piece of moving equipment.
That said, the reputation of computerized control in terms of time, space and potential cost savings is spreading. And like most technologies, its cost is expected to come down in time. "The majority of the jobs we do are still with key switches," says Draper's Turner. "But in the past couple years we've probably put 100 to 150 of the control systems in gyms. It's becoming more popular all the time."