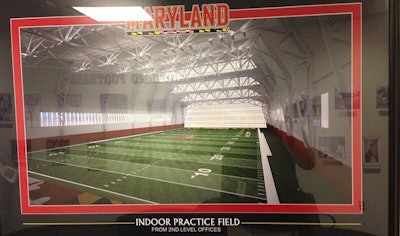 Maryland has moved from a "basketball conference" in the ACC to a "football conference" in the Big Ten, at least in the eyes of head football coach Randy Edsall.
"As a football coach, I feel better," Edsall told Pressbox Baltimore. "I'm going to a football conference. I'm not in a basketball conference anymore."

The fact that many college sports fans would consider Maryland to indeed be a "basketball school" and that fans of other conferences might get a chuckle out of the Big Ten being considered a "football conference," is a topic for a different day.

With its Big Ten move and a greater emphasis on football, Maryland is likely going to convert Cole Field House into a football practice facility. While no official announcement has been made by the school, renderings have leaked and the tweet below from InsideMDSports publisher Jeff Erman (and the ensuing story that is behind a paywall) implies that it's just a matter of time.
#Terps near unveiling plans to convert Cole Field House into indoor football facility. http://t.co/r4FzWZ9crC (VIP) pic.twitter.com/jyWCYuGFnF

— Jeff Ermann (@Jeff_Ermann) November 6, 2014

According to NBC Sports, Cole Field House, the former home to Maryland basketball, will undergo a $160 million renovation to convert it into a practice facility. NBC expects formal plans to be announced within the next week. Cole Field House, which sits in the middle of Maryland's campus, was replaced by the XFINITY Center in 2002 and is still used for homecoming events, classes and office space.
RELATED: Designing a Better Field House
Ermann is reporting that Under Armour CEO and Maryland alumnus Kevin Plank is a "major player" in the practice facility effort.

Speaking of new indoor practice facilities, that was the subject of this November feature story by AB's Emily Attwood.

"Some would argue it's about the arms race, but really, [practice facilities] do play a pretty important role in providing an all-weather practice space," Joel Leider, vice president of SportsPLAN Studio in Kansas City, Mo. told her. "Student-athletes from every sport train every day year-round. Providing a place for them to work during the winter, during storms, during oppressive heat — that's important."

Maryland does not currently have an indoor practice facility for its football team.
Looking for an interactive map of schools that have built or renovated football practice facilities in the last five years? We've got you covered.