This article appeared in the January/February issue of Athletic Business. Athletic Business is a free magazine for professionals in the athletic, fitness and recreation industry. Click here to subscribe.
The locker room component of an athletic facility is very different than from a recreational facility. The user expectation is different, and thus the design goals are different. AB recently asked our fitness and recreation audiences about their locker rooms, and here's what we found is driving renovations in campus recreation today.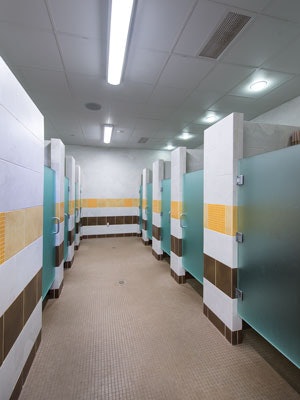 BALANCING SAFETY AND PRIVACY
The need for better privacy is a major factor behind many renovations, driven in particular at the collegiate level by increased sensitivity to a growing LGBT community.
"We have a need for gender-inclusive shower and changing space," says Tony Price, director of campus recreation at Auraria, a tri-institutional campus that serves the Community College of Denver, Metropolitan State University of Denver and the University of Colorado Denver. "The last couple of years we've had a number of students in our human performance and sport program identify as transgender. They need to have access to showers, and we don't have an appropriate space for them."
The campus's Physical Education, Recreation (PER) and Event Center, built in the 1970s, is in need of some serious renovations, though with so many stakeholders, it's a slow process. By spring, Price hopes to see renovations started to address the shortcomings in the locker room, particularly the removal of the communal gang-style showers, which was also an important element of the recent locker room renovations at North Carolina State University's Carmichael Complex.
"The overall goal was to try to make it a more comfortable space by addressing privacy, and being more sensitive to body image," says Jason Spivey, associate director for NCSU Recreation.
---
RELATED: Facility Operators and Designers Rethink the Locker Room
---
Some privacy is good, especially in the shower area, but there is such a thing as too much, says Bob McDonald, a principal with Denver-based Ohlson Lavoie Collaborative. "Recently there have been a lot of questions about privacy and how to provide balance between safety and privacy," McDonald says. "You don't want to create a situation where there are areas that aren't visible to staff as they walk through."
Security is a major factor in the need for renovations at the PER Event Center, says Price, which struggles with access control. "The building is open to anybody, including non-students," he says. "We have a lot of theft issues."
In the locker rooms, how square footage is segmented can always create something of a security issue. "They're large footprints, but they have old-school feel around the locker bays," Price says. "It doesn't feel very open, all these little pockets, which creates safety and security issues."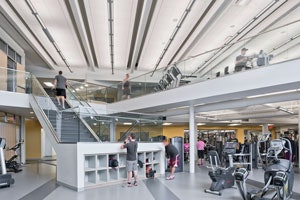 ACCEPTING THE NON-USER
Expanding to accommodate increased demand is a common theme for campus recreation projects, but not one that always translates to the locker room area. Says Spivey, "For us, the big drive was wanting to capture the underutilized space and open it up to more fitness programming."
Thus, the 14,000-square-foot men's locker room — an appropriate size for its original user base — is being downsized, with the number of lockers in the men's and women's locker rooms decreasing by 170 and 230, respectively. "The facility was built for physical education," Spivey explains. "Until 10 years ago, every student was issued a locker whether they used it or not. At some point, it was an appropriate size, but as we've gone away from a building used strictly for academic purposes to a recreational facility, we found that students aren't using the locker rooms the way they used to."
"The trend is moving away from using any kind of a locker room," agrees McDonald. "We're seeing more people show up dressed, ready to work out and then leave to go home and shower and change."
For many students today, this behavior has nothing to do with the amenities of the locker room and is simply a consequence of a demanding schedule. Rather than trying to change user behavior, facilities have incorporated more day-use or express lockers placed wherever students might have the most need for them. "We've scattered them throughout the building," says McDonald. "It's not only right outside the main locker rooms but outside the upper level — the aerobics studios, climbing wall, basketball court, all those programming destinations."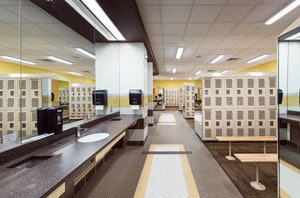 DESIGNING FOR NON-STUDENTS
Facility operators have made their peace with the on-the-go student who wants nothing more than a safe place to stash a bag, but this group isn't the only demographic using a facility. "One of our responsibilities is to generate revenue at some level," says Spivey. "For us, that's faculty and staff memberships. They are who we typically see renting overnight lockers and using locker facilities. As we look at other facilities around us, at YMCAs and private clubs, we have the challenge of 'keeping up with the Joneses.' "
The new locker rooms at the Carmichael Complex replaced metal lockers with phenolic, improved lighting and finishes, and added small lounge areas. "We put in stainless steel hand dryers instead of plastic," Spivey says. "We're trying to create a higher level of look and feel to attract new members and retain existing members."
Price is hoping to infuse the locker rooms with some warmer tones — fresh paint and finishes, and new flooring. "We just got done with an outdoor athletic complex for MSU Denver, and they did a nice job with fixtures and finishings that really bring a level of quality and appearance to the space."
---
RELATED: Simple Upgrades Transform Locker Rooms
---
McDonald agrees that campus facilities are showing more interest in higher-end touches. Ohlson Lavoie Collaborative recently wrapped up the first phase of renovations at the University of Wyoming's Half Acre Recreation and Wellness Center, which included some "designer" elements. "In a collegiate facility, you might typically see a fabric shower curtain. We put in frosted glass shower doors and fully tiled floors with decorative glass accents."
Swapping out older components for something with a higher-end finish is an easy change any facility can make to become more enticing, says McDonald, pointing to shower heads, faucets and soap dispensers. "Switching those out is inexpensive, yet it feels like you've made an upgrade. Or replacing the countertops — if you have plastic laminate that is starting to show wear, invest in more durable materials, with integrated sink bowls."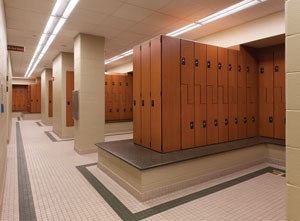 MAINTAINING APPEARANCES
Despite opting for higher-end finishes throughout the locker room areas, UW chose to stick with more-practical metal lockers for its Half Acre renovation. "That's what they were used to and offered the most comfortable feel, most durability and best price point," says McDonald. "Ongoing operations and maintenance is still the largest driver behind locker room choices."
The age of the locker rooms at PER Event Center has made maintenance a bit of a chore, leading to complaints from users. "I get feedback weekly about the grime and buildup in these spaces," Price says. "Housekeeping — they try, but it's challenging with such an old space. No matter how much you try to clean, it still looks dingy and gross."
Spivey says input from the maintenance team and housekeeping group was an important part of the selection of materials during renovation. "We had our housekeeping group come in and look at the fixtures, how easily they would be to keep up. And we asked maintenance about the shower fixtures we picked, how easy it was to maintain and service them. We wanted to make sure we were being financially responsible and buying a product that looked good but would also be durable and withstand heavy use."
Though the needs of users will continue to change over time, the need for locker rooms will not go away — thus the importance of selecting materials that will withstand the test of time. "A locker room is an important component, and if you do it correctly, it can become a nice amenity," McDonald says. "If you skimp on it to try to save money, it becomes a negative part of your facility."
---
This article originally appeared in the January/February 2016 issue of Athletic Business with the title "As users' needs change, so do locker rooms"