This article appeared in the May issue of Athletic Business. Athletic Business is a free magazine for professionals in the athletic, fitness and recreation industry. Click here to subscribe.
Youth soccer has become more than a recreational activity. Spurred by the success of U.S. national and professional teams and the efforts of organizations like the U.S. Soccer Foundation, participation continues to grow, as does the demand for more space. Instead of squeezing in an additional field or two wherever park space is available, however, many communities are turning to dedicated multi-field complexes — a design choice justified by the payoff.
"People who start clubs out here in California are bringing in six figures as for-profit clubs," says Steve Flanagan, principal with Sacramento-based architecture firm LPA Inc. and an active member of the local soccer community. "They run tournaments and the sky's the limit from fees, operations, etc. With that comes the need for field space. It's become this community effort to build a soccer complex to provide recreational outdoor space but also serve as a revenue-generator."
Economic impact is the number-one driver of construction, agrees Pat O'Toole, lead consultant with GreenPlay LLC. "When you start to think about the number of tournaments that can come into a community, it's a great fit," O'Toole says. "You can build such an expensive complex, then Monday through Thursday it's available for local use. Communities for so long have been trying to figure out how to build more fields for local teams, and this is how they're doing it."
So what does a revenue-generating soccer complex look like? Let's take a look.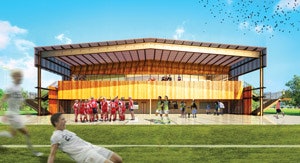 THE PLAYING FIELDS
The number, type and size of the fields at a soccer complex is the result of considerations for cost, available land, planned user groups and purpose — factors that will be different for every community.
Synthetic vs. natural turf — Both synthetic turf and natural grass fields have advantages and disadvantages, and neither is clearly preferred in sports complex construction. Says Flanagan, "Almost everybody in any sport wants to play on a quality natural grass field, but when you're extremely pressed in a community for field space, synthetic turf is a great alternative because of the wear and tear it can take."
More important than the type of field is its quality, according to Bill Madsen, senior landscape architect with CHA Sport in Kansas City, Mo. "We talk to several clients and throw out numbers for topsoil fields but they don't have the understanding of what the long-term maintenance aspects are going to be to keep that in high-quality condition," Madsen says.
One project CHA worked on in Kentucky opted for natural grass fields that could host tournaments on the weekends and rest during the week, giving it the distinction of offering natural grass but sacrificing some utility. In contrast, Scheels Overland Park Soccer Complex, which opened in 2011, opted for 12 lighted synthetic turf fields. "If you're hosting a tournament, the only time they can't get their games in is if there's lightning in the area," Madsen says. "That's been a great draw for the complex."
The payoff does not come without a significant investment, however, and most communities find installing synthetic fields exclusively to be cost-prohibitive. Phased development and converting fields as funds become available is one option, but another common approach Flanagan sees is to include a combination of synthetic and natural fields. "They at least have some synthetic turf that they can use year-round, and then they might light those synthetic turf fields so that if there's a rain issue, they can move a whole tournament onto four lighted synthetic fields and play from 8 a.m. to 10 p.m.," he says.
Field dimensions — Soccer field sizes can vary greatly, anywhere from 50 to 100 yards in width and 100 to 130 yards in length, often dictated by the level and variety of soccer play, as well as the other activities that will be played on the field. Whether in name or in function, more communities opt for a multisport design, with fields sized to accommodate sports such as rugby and lacrosse. "Our main goal is to work around full-size fields," says Madsen. "That allows the owner to be much more flexible. You can turn and run 8v8 sideways, run men's and women's lacrosse, rugby."
For soccer-focused complexes, a primary consideration is accommodating small-sided fields for various age and development levels. "U.S. Soccer just came out at the end of last year with new guidelines for youth soccer field sizes," Flanagan notes. "It's been open-ended in the past; any club could play on any size field from a minimum of 50 by 100 yards to 100 by 150 yards."
---
More from AB: Key Factors to Breaking into the Sports Tourism Business
---
At the LPA-designed Placer Valley (Calif.) Sports Complex, the fields are 75 by 120 yards, which can easily accommodate other sports, says principal Kevin Sullivan. "We're going to have a system where we're able to stripe for all of those," he adds, hitting on another important factor in field design. "We haven't locked in on permanent versus temporary striping, but there are great temporary products for striping synthetic fields. If you try to permanently stripe for everything, it can be quite a math problem."
Placement — Whatever type and size of the fields, resist the urge to pack as many fields as possible onto one site, which can have a negative effect on general circulation, according to Madsen. "You've got that transition period between games," he says. "Having those zones for teams to gather and get warmed up helps a tournament flow and stay on schedule."
Buffer space is also important for maintenance reasons, allowing adequate room for field runoff and retention ponds. "If you're building swells between the fields to help drain, make those swells far enough apart to be able to move the field a goalmouth-width over each season and re-seed," adds O'Toole. "This way you can shift the field so that last season's goalmouth can recuperate."
Finally, having fields too close together can create a safety issue. Madsen recommends a minimum of 15 feet beyond the playing lines, plus additional space for spectators.
The championship field — Few of today's tournament complexes are complete without a championship field. "It's got it all — bleachers, ticket sales, synthetic turf, lights and concessions built right there," says O'Toole. "The kids, no matter what age, can come in and play on the championship field."
"A lot of our design talk centers around creating a stage or backdrop for things like championship photographs," adds Flanagan. "There has to be a spot for the different age groups to come together and get their pictures taken with graphics of the tournament or venue, which is kind of a marketing opportunity for the venue owner."
The opportunities that come with a championship field extend beyond youth tournaments. In many communities, they can also bring in revenue by hosting concerts and other activities, or they might be an opportunity to bring another user base. According to O'Toole, the local college in Springfield, S.D., offered to fund the costs of the championship field in exchange for hosting its varsity schedule.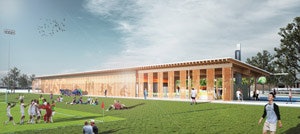 SPECTATOR AMENITIES
For every player in a youth soccer tournament, sitting along the sidelines is at least one parent or grandparent and often a sibling or two. Even during weekly practices, many parents may prefer to stay and watch. Then there is the time between tournament matches when entire teams may be sitting idle. Keeping these groups comfortable, entertained and onsite plays a large role in the success of the venue.
Access — Hosting local practices during the week is one thing, but designing a complex for visitors requires some additional attention, especially as the number of desired fields increases. "We're focusing on whether people who haven't been there before can find their way around," Madsen says. "Is there a central arrival point? Can you find your way to the fields you need to get to?"
There must be enough parking to accommodate everyone, and field access is also important. "Providing some kind of hard surface access to the fields is an element that's often missed," Madsen adds. "ADA code says we have to provide hard access to the fields."
The best arrangements also minimize the amount of time it will take spectators to reach the fields. "If you can work four full-size fields around some type of restroom and then parking, we've found that's a good, comfortable walking distance, easy access, works well for tournaments," Madsen says.
Sideline comfort — Permanent seating for complexes is impractical, with no single setup capable of satisfying all possible field configurations. Providing shade is difficult for the same reasons, but any type of protection from the sun will be appreciated by fans. "Overland Park has some cooling fans so that spectators and players can cool down fairly quickly during hotter summer games," notes Madsen, emphasizing how one of a few smaller touches can add to the users' experience.
---
More from AB: Parks and Recreation Departments Benefit from Sports Tourism
---
WiFi is another element becoming essential to a good sideline experience. "We're seeing a lot of movement toward WiFi-based scoring systems," says Madsen. Overland Park is able to take advantage of an onsite administration building to keep tournament attendees up to date on the competition. "They're able to keep track of all the scores and relay them to the concessions pods so you can go and see other teams' results and up-to-date standings for the tournament."
Concessions — Having food vendors onsite is an opportunity to capture more revenue while keeping facility users happy, and many communities are finding means beyond the traditional concessions stand to sate players' and fans' hunger. "We're seeing bigger buildings with restaurants and bars to accommodate large crowds or even daily-use people," says Flanagan.
To help meet the demand created by increased weekend volume, many complexes are bringing in food trucks. "They're often at the opposite end of the concessions area as another option," says O'Toole, noting that including electrical hookups, picnic tables and shade can help make this type of arrangement more successful.
Alternative activities — Weekend soccer tournaments have become a family affair, but not everyone in the family enjoys sitting on the sidelines. For them, alternative activity spaces such as playgrounds or tot-lots are a welcome diversion. "Spray grounds are huge," O'Toole says. "They're easy to operate, don't require lifeguards and cool kids down."
Even during weekly soccer practices, the onsite activities can turn a sports complex into a community gathering space. "Fitness trails are coming back," O'Toole says. "You can take your kid to practice and get in a workout or have family time."

---
More from AB: Communities Find Solutions to Sports Field Shortages
---
STAYING COMPETITIVE
A brand new sports complex is sure to draw attention, but it's an ongoing investment to keep people — and tourism dollars — coming back. As mentioned, maintaining the quality of the complex itself is important, but so is continuing to improve. "There's never not something we could have done better," Madsen says. "We try to stay in touch with the people who are managing these complexes and understand when sports are changing and how it's impacting the overall facility. How people are actually trying to do simple things, like removing trash from an 80-acre complex. Is there anything we could have done better to make operations run more smoothly?"
Post-tournament surveys can be a great tool for continued improvement, says O'Toole. "When you ask a question about coming back next year, the number-one issue is whether the hotel accommodations are reasonably close to the complex," he says. "You have to have the infrastructure to handle the number of people you want to host within a drivable distance."
For many communities, attracting new businesses will be a natural consequence of bringing in youth sports tournaments, but if the businesses aren't keeping up with demand, something must be done.
"There's this need and this business model," Flanagan says. "I don't think if it was all city money and volunteer money that we would see as many of these complexes pop up. There has to be a financial model that's successful."
---
This article originally appeared in the May 2016 issue of Athletic Business with the title "Designing soccer complexes to maximize utility and revenue"