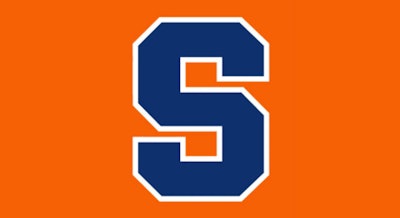 Syracuse University is seeking approval for a complete renovation of its athletics facilities, including a new 51,000-square-foot football complex.
The proposed plan will be discussed by the planning commission at a meeting next week. 
As part of its proposal, Syracuse is seeking approval for the demolition of its existing football facilities and to carve out a bigger footprint for sports medicine, coaches' offices, locker rooms, dining, a players' lounge and team meeting space.
According to Syracuse.com, the plan is part of the university's $150 million fundraising effort to remake Manley Field House, which is slated to be renamed the John A. Lally Athletics Complex after the donor kickstarted the project with a $25 million donation. 
The project currently has no timeline for the new football facilities, which are listes as part of Phase 2 of the project. 
"As with all major universities, it is essential that first class, state-of-the-art athletics facilities be provided for intercollegiate sports," the school wrote in its proposal, according to Syracuse.com. 
The complex will be named for former football player and donor John Lally, whose $25 million gift with his wife, Laura, helped get the project off the ground.