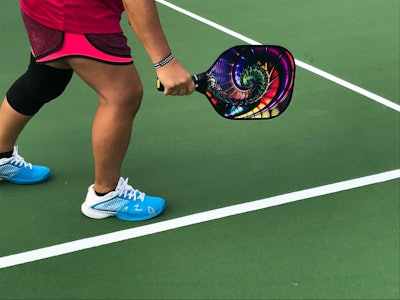 Photo courtesy of Joan Azeka
A new pickleball startup is hoping to move into shopping malls that have fallen to disuse as consumers increasingly favor online shopping.
Picklemall will open its first location in Tempe, Ariz., with 24 courts in late July, with two other projects planned for the Midwest and central United States.
According to billionaire philanthropist Steve Kuhn who spoke with Yahoo Finance, pickleball players are struggling for enough court space as there is currently one tennis court for every 30 tennis players in the country, but only one pickleball court for every 250 players.
"As anyone who's tried to play on a public court and waited for hours to play would tell you, we need more courts, and Picklemall is working to try and bring more courts and bring a great experience to more players," Kuhn said.
West Shaw, who founded Major League Pickleball, says the indoor courts will have a controlled climate and championship-style courts, while also mitigating sound complaints that typically plague outdoor venues near residential neighborhoods.
"We're doing our best to mitigate those complaints by putting sound dampening devices in our facilities, trying to capture some of that noise," Shaw said. "The great thing is, being indoors, we don't have to deal with the neighbors hearing the noise. We just have to deal with our tenant."
Kuhn says pickleball is more than just a passing fad, as it has proven to draw a wide demographic to courts around the country.
"You can see sometimes four generations of a family playing together, and I think that makes [pickleball] completely unique and special," Kuhn said. "It's building family memories for people."