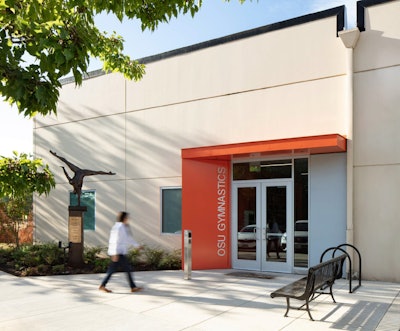 Stephen A. Miller
A new facility in Corvallis, Ore., for the Oregon State University Women's Gymnastics Team was recently completed. Ranked 17th in the nation, OSU's team consistently produces All-Americans, NCAA Champions, Olympic Gymnasts and Champions.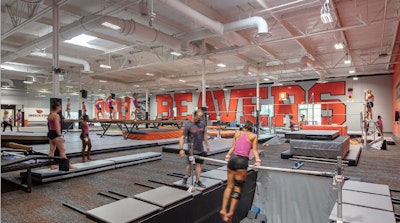 Working closely with OSU coaches and staff, Woofter Bolch Architecture transformed a former warehouse space at the edge of campus into a 20,600-square-foot world-class facility designed to support student-athlete health and wellbeing, individual excellence and team success.
The new space triples the practice studio area and includes new and varied training apparatus for balance beam, floor exercise, uneven bars and vault.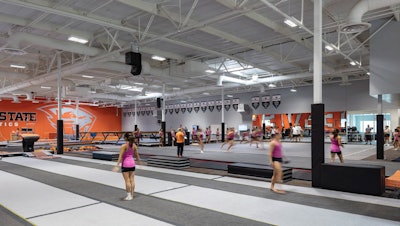 There is also a new therapy and cardio area, team and coaches meeting rooms, and locker areas further support the athletes and further the program.
The new facility puts OSU in a strong position to continue to recruit and compete at the highest level of NCAA Gymnastics while developing national, World and Olympic Champions. — Woofter Bolch Architecture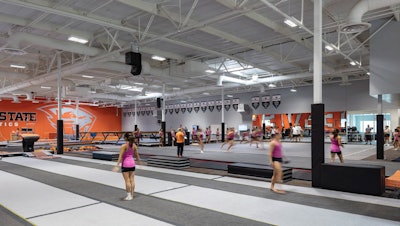 ---
Indiana University Athletics is excited to announce that a renovation of the women's basketball's team center in Simon Skjodt Assembly Hall is well underway. This project has been made possible by Women's Excellence, an initiative dedicated to elevating IU's 13 women's varsity programs.
The much-needed renovation of the game day locker room, located in the northwest corner of Simon Skjodt Assembly Hall, is critical in keeping the Hoosiers at the top of the Big Ten standings. The successful completion of this project will assist with our recruiting efforts while also providing our student-athletes with a gameday space that is in line with other Top 25 caliber programs.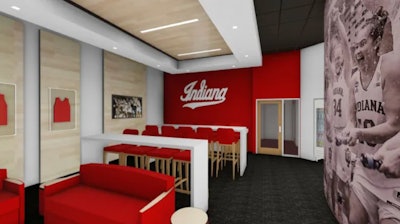 This space will include:
Locker room
Team lounge
Training room
Coaches meeting room
"This is an exciting time for our program with the commitment to the renovation of our game day team center," Indiana head coach Teri Moren said. "I would like to thank athletic director Scott Dolson along with the Women's Excellence Initiative for giving us a space to help our players prepare for games and compete at the highest level. This project supports our dedication to defending our home court at Simon Skjodt Assembly Hall."
Indiana Athletics is committed to women's basketball's future success and this project being completed by the start of the 2022-23 season. A variety of naming opportunities are still available, along with the chance to name individual lockers.
Thanks to a generous donation from the Courtney Cox Cole family, the locker room will be renamed in her honor. — The Hoosier
---
An $8.5 million renovation to the women's basketball practice facility at the University of Alabama at Birmingham is now complete, and the facility is open.
Beyond the advantage of having two courts that both Blazers basketball teams can use simultaneously, along with 24-hour card access for student-athletes, the facility features offices for both coaching staffs and player lounges and film rooms that are already paying dividends in one of the most important aspects of building and maintaining a championship program.
The project was approved in February 2020, a groundbreaking was held in May 2021, and the facility opened in April 2022.
A renovation of the former student rec center is a welcome but also a bittersweet sight.
"Great memories of great competition in here," UAB basketball coach Andy Kennedy said. "But when you come in, you can't even recognize it. They've done an incredible job of maximizing the space. It's important for us in the growth of our program because it allows us to do our job more efficiently but also it's been a huge plus for us even at this point in the recruiting process."
"I would be happy to put this facility up against any basketball facility in the country at any level," UAB athletic director Mark Ingram said. "It's that good and when recruits see it, they're going to agree." — AL.com