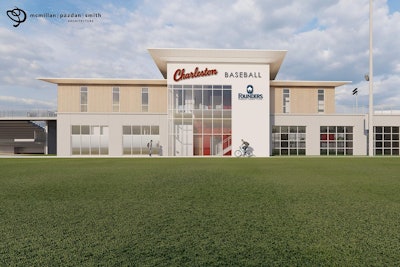 Courtesy of College of Charleston
There are not many schools where you can say the largest athletic department gift was to a baseball program, but that's the case with the in Charleston, S.C., at the College of Charleston, where a $2.1 million gift is leading to a $4 million baseball performance center.
The gift from Founders Federal Credit Union will go to construct and configure the Founders Baseball Performance Center at Patriots Point.
The new two-story, 11,000-square-foot facility will include clubhouses, team rooms and video rooms with cutting-edge training technology, a hydrotherapy training area, outdoor patio and club areas for donors and new coaches' offices. It should be completed in a 2026-2027 time frame.
"This partnership and naming agreement with Founders Federal Credit Union is an exciting opportunity for the College of Charleston," said College of Charleston President Andrew T. Hsu via press release. "Founders has done great work with their other university collaborations in the region, and I know this record-breaking gift for our athletics program will go a long way in supporting our student-athletes and coaching staff as they set new records for our Cougars baseball program." — College of Charleston
---
Renovations to the arena at the University of North Florida in Jacksonville, are a few weeks away from completion as the university celebrates its 50th anniversary year.
Construction of the Bank of England Hospitality Suite — on the second floor overlooking the west baseline of the court — is in the final stage. Installation of the new hardwood court flooring is largely done but awaiting varnish.
The project is the first replacement of the original arena court floor and the first installation of a hospitality suite since the indoor sports facility was built in January 1993, UNF Athletics officials told Jacksonville.com in an email.
The arena seats 5,800 people for sporting events. It also hosts special events, concerts and graduations.
Its bottom seating can be collapsed to open up room for three regulation basketball courts. Two half-basketball courts are located upstairs. The arena also houses racquetball courts, eight locker rooms, a training room, a kinesiology lab and the offices of athletics administration and various coaching staff.
The estimated total project cost is $3.5 million. — Jacksonville.com
---
The City of Surrey, in British Columbia, Canada, has begun construction on two new sports facilities.
The new Bear Creek Athletics Centre and new North Surrey Outdoor Sport Complex will provide premier destination sports facility for the community.
The North Surrey Outdoor Sport Complex will be located adjacent to Scott Road SkyTrain Station and North Surrey Sport and Ice Complex at 12626 110 Avenue. The complex will include a circular natural grass sports field, a 2500-seat grandstand and a fieldhouse which will include public washrooms and change rooms. The complex's proximity to rapid transit and SkyTrain makes it an ideal location for hosting large tournaments and events.
In addition to having the capacity to host a variety of sport and cultural activities, the North Surrey Outdoor Sport Complex will have larger seating capacity than any other Kabaddi amenity in the City.
"It will have the largest seating capacity of all other kabaddi amenities in the city," Mayor Doug McCallum.
Once complete, the Bear Creek venue will provide the community with increased access to high-quality outdoor amenities, accommodate some special events and a variety of high-level football, soccer and track and field sporting activities.
The Bear Creek Athletics Centre will include a new partially covered grandstand with permanent seating for 2,200 people and the possible expansion of temporary seating for another 1,000 people. It will also include the construction of new change rooms and public washrooms and upgrades to the track, the concession and ticketing spaces.
Both projects are expected to complete in 2023. The projects were approved in the city's 2021 five-year capital financial plan. — REMI Network