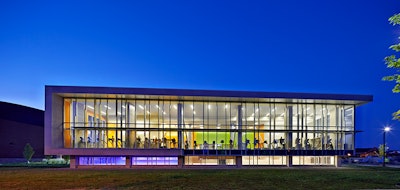 France A. Cordova Recreational Sports Center Expansion & Renovation |
Purdue University |
West Lafayette, Ind.
The Cordova Center renovation effectively rights the wrongs of an original three-building complex by "adding on from the middle," thus creating a central atrium with unified entry and greatly improving wayfinding once patrons are inside.
Diversity of architectural character is maintained within various activity spaces, or "neighborhoods," but extensive use of interior glass greatly improves visual accessibility over the windowless interiors of the original complex. The neighborhoods serve to break down the scale of this enormous facility, while still allowing it to leverage a prime campus location.
"Expansion and renovation blend nicely with existing," said one judge. "Seems like an entirely new center."
View the full photo gallery>>>

Judges' Comments:
Slick, modern aesthetic within a Midwestern context.
— Bill Baker
The interior concourse is clearly defined. The amount of light that penetrates the interior is impressive.
— Erik Kocher
This project uses transparency as an effective way-finding strategy. Challenging transformation given the existing buildings and site considerations.
— Darryl Condon
ARCHITECT OF RECORD
Moody•Nolan | Columbus, Ohio

Cost: $73.5 million
Square Footage: 420,000
Funded By: Student fees
Major Facility Components: Gym, aquatic center, climbing wall, running track, fitness spaces, social and special event spaces
The 2014 Athletic Business® Facilities of Merit™ awards were selected by a panel of sports and recreation facility architects during two days of judging in Madison, Wis. The 10 winners are being announced during these two weeks, and profiles of all 10 will appear in the November issue ofAthletic Business. The awards will be presented to the facility owners and architects at the Athletic Business Conference & Expo in Orlando on Friday, Nov. 14.
More 2014 Facilities of Merit:
Auburn University Recreation and Wellness Center
Chinguacousy Sports Park Redevelopment
Cornell Community Centre & Library
Crisler Center Renovation & Addition -- University of Michigan