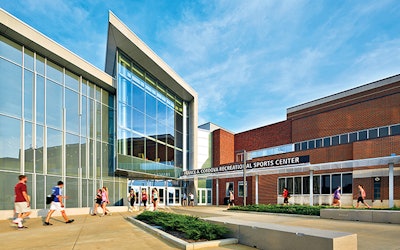 Across the country, college rec centers have gone from places to shoot hoops with your pals to centerpieces of campuses, and one of the major ways to attract new students.
Some oppose this movement though, arguing that expensive and lavish rec centers only further establish colleges, with their already-brimming tuition and fees, as a place only for the well-off.
Universities are fighting this notion, however, with research and data that proves that giving students a great place to exercise pays off.
This year, Purdue University's recreation center (a 2014 Athletic Business Facility of Merit) received a $73.5 million face-lift, funded by student fees. But schools like Purdue are mining data that should silence critics of the price tag. According to a study in The Wall Street Journal, students who visited the center at least 64 times during fall 2013 racked up a 3.20 GPA that semester. Those who never visited merely averaged a 3.07.
Michigan State ran a similar study this past July, and found that students who were members of their rec centers in their first two years posted higher GPAs than those who weren't.
Meanwhile, NIRSA reports that about 75 percent of students use on-campus rec centers, facilities and programs in a given year.
---
Tell us about your rec center! Athletic Business and RDG Planning & Design are collaborating on an industry survey, the results of which will be published in the April issue of Athletic Business. The survey focuses on best practices in facility design, fitness, wellness and emerging technology. Your input is needed, and appreciated! Need an incentive to participate? Take the survey, and you will be eligible to win a large-format flat-panel TV courtesy of RDG! Take the online survey>>
---
In the Big Ten, Purdue and Michigan State aren't the only schools putting emphasis on their rec centers. Ohio State's Recreation & Physical Activity Center, for example, checks in with more than half a million square feet of space. Wisconsin students recently OK'd a $223 million upgrade of their school's recreational sports facilities, largely funded by student fees.
While the size of many of these facilities may seem daunting to new students, as it did to Ohio State junior Leah Franklin, most pupils come to love it: "I love TRX, cardio kickbox, circuit cycle," Franklin told The Wall Street Journal.
RELATED: Partnership with TRX Instructor Brings Firemen's Fitness In-House
Ohio State offers over two dozen different types of classes. Amongst them, a cycle class that's Harry Potter themed and a yoga class that shows clips from Downton Abbey.
And while enrollment at Ohio State has only grown three percent between 2012 and 2014, visits to group fitness classes have grown 68 percent in that same span of time. Proof to the school that investments in their rec center are worth it.
"[Students] understand the critical importance of physical activity," said Don Stenta, the university's director of student life recreational sports.
Interestingly, fitness classes that are driving rec center growth at Ohio State and not the intramural sports that once dominated the spaces. But with classes as diverse as martial arts, rock climbing and zombie dodgeball being offered across the country, the takeover isn't that surprising. North Carolina State's rec centers alone offer 150 fitness classes, which is a far greater number than most commercial clubs can provide.
"There was this idea that IM sports was driving the industry, but that really wasn't the case," said Heather Sanderson, North Carolina State's associate director for university recreation.

Though expanding rec centers add another cost to the already-expensive college experience, the benefits they offer students are just beginning to present themselves. As more schools track their students' rec center experiences, it will become clear as to whether the rising costs indeed outweigh accommodating students' wellness needs.


RELATED: Ten Tips for Keeping Your Rec Center Looking Like New