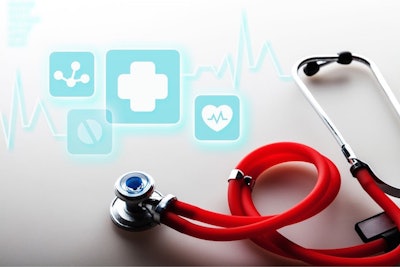 More factors than ever must be taken into consideration when planning and designing a recreation center in 2017. Up until this point, I've covered five of them: the importance of holistic planning, the drive for self-sufficiency, the impact of sharing spaces, never-ending technology demands and generational changes.
The next topic, healthcare, has popped up in conversations about recreation buildings and programming for at least the past three decades. And with the national debate over healthcare coverage and costs ongoing, an emphasis on proactive screening and preventive wellness programming is more urgent than ever. Public recreation centers can play a pivotal role in this evolution.
Simply offering discounted memberships or special rates for public and private employers and their staff members can generate increased interest in fitness programs, equipment and sports that improve individual health, reduce medical and insurance costs, and make noticeable short-term and long-term impacts on the community.
Recreation centers must be designed to anticipate this need, which represents both a community service and a revenue-generating opportunity.
Healthy Choices
Despite uncertainties associated with incorporating healthcare services into recreation center programming and design, many ways exist to begin bridging the gap between these two essential components. From joint ventures to branding opportunities, here are six examples:
Joint Venture Opportunities
As part of a joint venture between the city of Strongsville, Ohio, and the Southwest General health and medical center, a new nurse clinic opened last year in the Walter F. Ehrnfelt Recreation & Senior Center. The clinic, which operates at no cost to the city, diagnoses and treats colds, flu, ear infections, skin conditions, minor wounds and abrasions, sprains and even bladder infections, as well as providing physicals, screenings and other testing. Meanwhile, a hospital to treat low-income and uninsured patients anchors a proposed mixed-use project on the west side of Chicago that also would include a recreation center, retail stores, and spaces for community programs and affordable housing. Dubbed "Focal Point," the 1.1 million-square-foot campus has been called a "creative way to build a new hospital" by some observers.
Private-Sector Partnership Opportunities
Texas Health Resources, a large faith-based nonprofit healthcare provider, is building its own hospital-based full-service fitness centers in North Texas, and Northwestern Medicine recently received approval to build the 111,105-square-foot Northwestern Medicine Kishwaukee Health and Fitness Center in suburban Chicago. The potential for public facilities to partner with these and similar facilities for programs, services and classes is wide open — especially if both parties can put aside competing interests and find ways to leverage and complement each other's strengths.
Community Service Events
In March, two local organizations teamed up with the Shirley B. Winston Recreation Center in Columbus, Ga., to host the annual Baby-Palooza. The event provided an opportunity for new and expectant mothers to learn about area resources available to them regarding care for their newborns. Nurses also were available to provide valuable medical advice. The Waupaca (Wis.) Recreation Center, meanwhile, recently offered a "Health and Wellness Resource Event" with insight from Concordia University Wisconsin nurse practitioner students, and representatives from the facility's fitness, personal training and yoga programs were on hand to answer questions. Even hosting CPR and AED training classes in conjunction with the American Heart Association and similar organizations can provide an invaluable community service, especially in rural or low-income areas.
Branding
The number of healthcare organizations sponsoring sports teams is on the rise, especially as competition among providers heats up in local communities. Many public rec centers provide youth sports leagues, and this combination makes sense. What better message to send to players, coaches and parents than that they're all in good hands on a team sponsored by a hospital or clinic? Other sponsorship opportunities abound for health centers at recreation centers, from signage at tournaments and special events to health screenings and classes.
Aquatic Therapy
Fueled by baby boomers, water therapy is the fastest-growing segment of aquatic programming. Facilities with therapy pools increase opportunities to provide services for both members and outside physical therapy centers that don't have their own therapy pool. Many recreation centers contract with rehab specialists to keep their therapy pool in use throughout the day.
Integration of Health and Wellness
Midwestern State University combines recreation and healthcare into one facility with the Bruce and Graciela Redwine Student Wellness Center and Vinson Health Center. With a separate entrance, the health clinic offers general medical diagnoses, immunizations, STD screenings and treatment, referral coordination and minor procedures such as casting and splinting. Part of the facility's mission statement is "to empower our campus community with self-sustaining health." It's a perfect example of how a healthcare provider can fit naturally into a small campus environment.
However you decide to incorporate healthcare services with recreation programming and design, keep in mind that even a little bit can go a long way.
Stephen Springs is a senior principal at Brinkley Sargent Wiginton Architects, a Texas-based firm specializing in public architecture with offices in Dallas, Waco and Austin. He is a former parks commissioner and has more than 20 years of experience in public recreation and aquatic design.