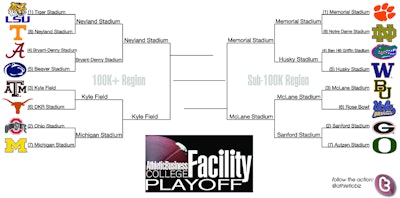 After more than 35,000 votes were cast in the quarterfinal round, our search for our readers' favorite stadium in college football is down to just four.
In the last round, Clemson's top-seeded Death Valley narrowly escaped an early death at the hands of Washington's Husky Stadium. It was the closest contest in the tournament thus far, but a late surge from the Husky faithful was not enough.
"Between the Hedges" (Georgia) was no match for "Along the Brazos" (Baylor). Texas A&M's Kyle Field was too much for The Big House. Meanwhile, Tennessee's Neyland Stadium looks to be the odds-on favorite to win the whole thing. Neyland is the leading vote-getter through two rounds dispensing SEC rivals LSU and Alabama along the way.
Log in to view the full article