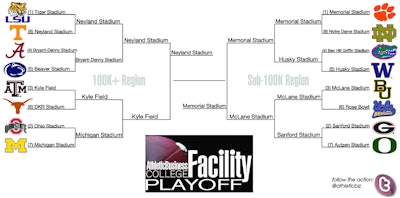 Athletic Business' search for our readers' favorite college football stadium has reached the championship round.
Two outstanding venues have emerged from the semifinals and look to be crowned champion. The winning facility will earn some ink in an upcoming issue of Athletic Business and of course, bragging rights for its fanbase. Tennessee's Neyland Stadium has rolled over three straight SEC West venues and now find itself matched up with another stadium known for its orange-clad fans. Clemson's Memorial Stadium enters the finals after edging out Baylor's McLane Stadium by 700 votes in the semifinals.
Voting in ends Sunday at 11:59 p.m. The winner will be announced Monday morning.
New to the College Facility Playoff? Here's a refresher on our criteria.


(8) Tennessee's Neyland Stadium vs. (1) Clemson's Memorial Stadium

Which stadium (and shade of orange) do our readers prefer?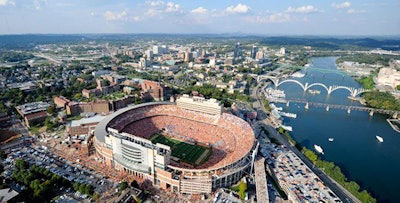 Neyland Stadium
Opened: 1921
Last Renovated: 2004-2010 (three phases)
Renovation Cost: $136.4 million
Capacity: 102,455
Thoughts from the Committee: One of college football's most iconic venues has received some major upgrades in recent years, most notably to its aging infrastructure, but no amount of money can change one of the stadium's best features, its location. The stadium sits along the banks of the Tennessee River where the "Vol Navy" tailgates via boat before games.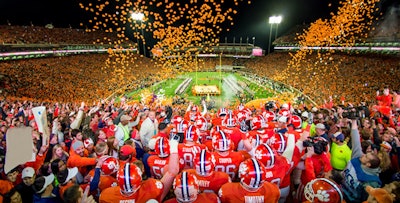 Memorial Stadium
Opened: 1942
Last Renovated: Currently
Renovation Cost: N/A
Capacity: 81,500
Thoughts from the Committee: Clemson's "Death Valley" has the tradition and game day atmosphere to rival any in college football. "When Clemson players rub that rock and run down the hill, it's the most exciting 25 seconds in college football," says Brent Musberger. But the stadium itself is impressive too with plans to get even better. The school is currently improving the stadium's "WestZone," adding a new tower with a glass window embellished with a tiger paw. The north side's suites and club seats will also be revamped.


*Votes are still being tallied properly, however, due to the sheer volume of responses, the display function is no longer appearing. Follow Athletic Business on Twitter for periodic updates and our announcement of the winner on Monday morning.