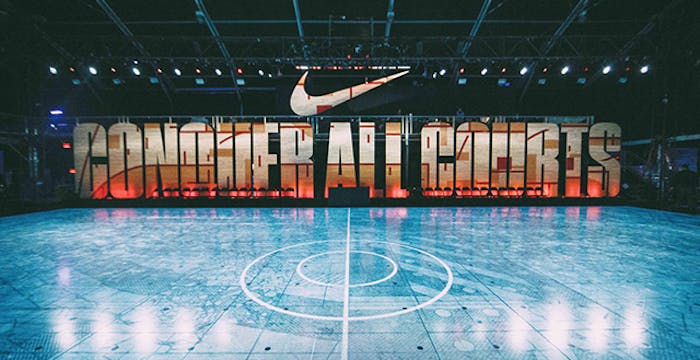 Nike introduced what it calls "the future of basketball," over the weekend as part of the NBA's All-Star festivities in New York City. In a large tent in Soho, Nike set up a temporary state-of-the-art basketball facility featuring a regulation-size LED basketball court. The court incorporated a fully programmable LED screen to run content and interactive training programs throughout the weekend.
This isn't the first time Nike has implemented an LED court. You may remember the company did something similar in Asia last summer. What makes what the company dubbed "Zoom City Arena" in New York unique is that it actually hosted three high school basketball games that counted in the standings. According to Nike, it is the first time a game that counts in the standings has been played on an LED court in the United States.

In what the USA Today described as a circus-like atmosphere featuring cheerleaders and blaring bass-heavy rap tracks, three high school games were hosted. The main attraction, which drew about 750 fans — including Kentucky's John Calipari — saw New Jersey's Roselle Catholic edge Long Island's Our Savior New American School, 63-59.
The game featured two of the top prep prospects in the nation. Rivals.com ranks Roselle Catholic's point guard, Isaiah Briscoe, as a five-star player in the class of 2015. He has committed to play for Calipari at Kentucky. Meanwhile, Our Savior New American's power forward Cheick Diallo is also a five-star prospect according to Rivals and has drawn interest from dozens of schools around the country.
The players had mixed reviews about the court.
"It was hard to focus because while you're playing the court is (flashing electronically)," Briscoe said afterward. "It's just weird, but at the same time it's just fun... At the end of the day it was a great court, and whoever came up with the idea, I can't even explain it. It's a crazy experience."
"At timeouts, you had to try not to look at it," Briscoe's teammate Matt Bullock said.
While this is the first LED court to host an official high school game, it is not the first time we've seen a basketball court transformed by light. Last year, AB reported on high powered projection technology that is revolutionizing in-arena entertainment. The capabilities are similar to Nike's court and it can work on fields and ice too.