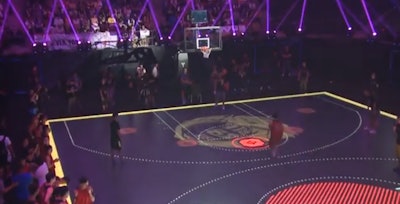 Nike is known for designing futuristic shoes, clothes and now, basketball courts.
The company has created a full-sized basketball court with motion-tracking and reactive LED visualization technology built right into the floor. The LEDs can interact with the players as they move around the court. As The Huffington Post's Ryan Grenoble writes, it court makes "real-life basketball look more like a video game than a sport."
To see the full capability of the court, we highly recommend watching the video below:
The court, built in Shanghai, is part of the company's "Nike RISE" campaign taking place in China. Dezeen Magazine reports that the floor will be used to help Los Angeles Lakers star Kobe Bryant teach his moves to young players in China. The court is housed in a dedicated facility called the House of Mamba, an ode to Bryant's nickname, "The Black Mamba."
Other NBA stars such as LeBron James are also participating in RISE.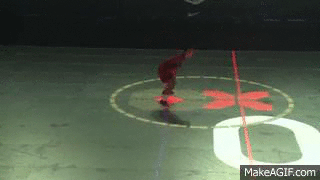 More from Dezeen Magazine:
The court can lay out sets of moves for individual people, create drills based on Bryant's training program that are adapted for the court, and respond to mistakes as well as display performance stats.
It can also show classic court markings, with customized overlays including Nike's RISE branding.

When not in use for training and games, the LED surface can display almost any combination of moving images, graphics and colors.
While this is the first court we've seen with LEDs built right into the floor, it is not the first time we've seen a basketball court transformed by light. Earlier this year, AB reported on high powered projection technology that is revolutionizing in-arena entertainment. The capabilities are similar to Nike's court and it can work on fields and ice too.