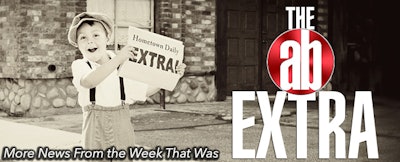 This week's AB Extra features a new interactive technology that is looking to transform the treadmill experience into art, a touching show of patriotism by fans at a collegiate softball game, and a high school golf team that that came to the rescue in an apartment inferno.
Nike is partnering with London startup FIELD to create a multi-sensory experience for treadmill users.
The technology, called Force of Nature, will pair with Nike's Free Run to provide an interactive experience which aims to turn often monotonous treadmill running into a "reactive piece of art." Microsoft Kinetic sensors will use information gathered from the runner's motion to create "patterns and perspective forms" that are designed to "help him or her run faster, stronger, and further."
Log in to view the full article