Check out these products as seen in the April 2018 issue.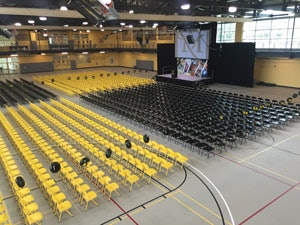 Robbins Sports Surfaces
Pulastic by Robbins provides a reliable gymnasium floor that will hold up to decades of high-traffic activity. Pulastic is a seamless synthetic floor system that is extremely durable, with lasting beauty and UV color stability. The seamless feature of Pulastic flooring creates a surface that is extremely hygienic and resistant to seam failures that can occur in high-traffic areas. The resilient quality of the padded Pulastic underlayment system provides superior comfort, safety and versatility for a multipurpose space.
www.robbinsfloor.com
(800) 543-1913
---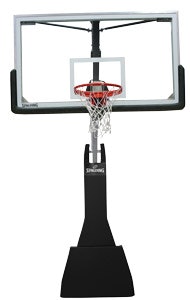 Spalding
Spalding® is the world's largest basketball product supplier, with more than 75 percent of NCAA Division I programs using Spalding backstops. The new Spalding Arena Renegade® is like the Spalding Arena® Portable Backstops, but with improved features. Its sleek, slimmer profile provides greater audience visibility and the built-in cable channel allows for the attachment of microphones, cameras, LED boards and more. The Spalding Arena Renegade® will make its debut at the 2018 Final Four.
www.spaldingequipment.com/renegade
(800) 435-3865
---
Mondo
Mondo Advance is a durable, high-performance gymnasium and multipurpose resilient surface that exceeds coefficient-of-friction standards for improved athletic performance — perfect for basketball and volleyball. Environmentally friendly Mondo Advance flooring can withstand static and rolling loads from bleachers and chairs. The flooring is easy to maintain, fire-resistant and antibacterial and antimicrobial throughout. The vulcanized rubber will not break down or compress over time. It is 100 percent recyclable and GREENGUARD Gold-certified.
www.mondoworldwide.com
(800) 361-3747
---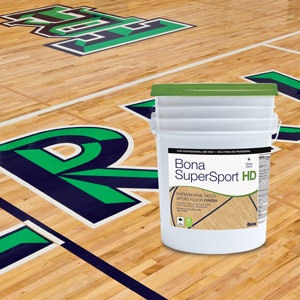 Bona US
Bona's premium two-component waterborne finish SuperSport HD protects some of the most high-profile wood sport floors in the world, providing excellent chemical resistance and a tough, glossy protective coat. The fast-drying, virtually odorless finish is the most durable finish on the sport floor market. Non-yellowing, nonflammable and with low VOC, SuperSport HD is MFMA-approved and GREENGUARD Gold-certified.
www.bona.com
(800) 872-5515
---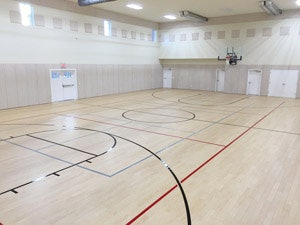 Mateflex Modular Surfaces
Mateflex provides flexible modular flooring solutions with a wide range of products and installation services. Mateflex revolutionized the industry with the introduction of ProGym Plank, an authentic-looking, simulated-wood modular tile — the only tile on the market available in the shape of a wood plank. Mateflex surfaces are backed with an industry-leading, 15-year limited warranty.
www.mateflex.com
(800) 926-3539
---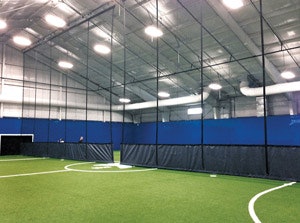 InCord Play
InCord's Sports Netting Gym Dividers can partition gym spaces for multiple uses, adding quick and convenient versatility to a facility. With a wide array of materials and colors, InCord custom-fabricates systems of permanent, sliding or motorized retractable dividers to meet the client's needs. InCord has been the North American leader in custom sports netting solutions for more than 20 years.
www.incord.com
(860) 537-1414
---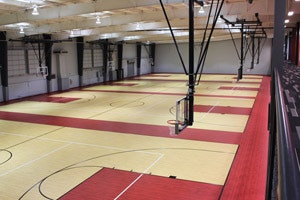 Tarkett Sports
Omnisports™ by Tarkett Sports is indoor flooring that meets the intense demands of today's sports and recreation environments. The complete new range of Omnisports™ indoor flooring accommodates any level of play, any budget and nearly any event. Omnisports is certified asthma- and allergy-friendly, phthalate-free and meets the ASTM F2772 standard in North America. It is an excellent gym floor for venues where a variety of sports or events might take place, such as schools, universities or community centers.
www.tarkettsportsindoor.com
(888) 364-6541
---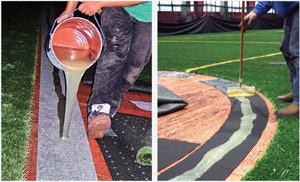 Synthetic Surfaces Inc.
NORDOT® one-part, solvent-based urethane adhesives make indoor synthetic turf and other recreational and aquatics surfaces easier to install. Ready to use and applied with minimal effort by trowel, glue box, squeegee, roller or airless spray, the product is renowned for its high "green strength" (grab), superior water-resistance and long-term durability, even on heavily used surfaces. These photos of two indoor field installations show NORDOT® Adhesive being poured and spread on 12-inch seam tape with a stand-up squeegee.
www.nordot.com
(908) 233-6803
---
RELATED: Find more solutions for your facility in the Buyers Guide
---
RELATED: Purchasing Guide: Gymnasium Flooring
---
---
RELATED: Addressing Surface Condensation in Multipurpose Arenas
---
---
These products originally appeared in the April 2018 issue of Athletic Business, a free magazine for professionals in the athletic, fitness and recreation industry. Click here to subscribe.