Feasibility studies can create conflicts of interest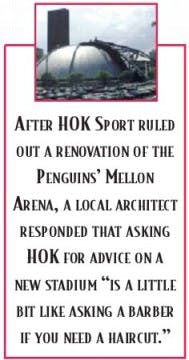 It's the first question the prospective builder of a sports or recreation facility wants answered: Will it fly? A feasibility study is ordered, and conducted. Most of the time - as much as 90 percent of the time, planning consultants say - the answer is yes.
Now, it may be that the only people willing to pay tens of thousands of dollars for a feasibility study are the ones whose projects already stand a decent chance of coming to fruition. But it might also be, an increasing number of project opponents contend, that an inherent conflict of interest leads architecture firms to perform master-planning or feasibility studies that suggest a higher-cost alternative. In some cases, they claim, architects or consultants hired to perform feasibility studies might green-light projects that aren't truly feasible.
The conflict is particularly acute in cases in which the firm conducting the feasibility study is eventually awarded the multimillion-dollar contract to design the facility. Questions arose in Pittsburgh this spring as HOK Sport + Venue + Event, the architecture firm that designed PNC Park and Heinz Field, began competing in earnest for the contract to design a new $225 million arena for the NHL's Pittsburgh Penguins.
According to the Pittsburgh Sports & Exhibition Authority, owner of PNC Park and Heinz Field, HOK received a total of $18.5 million for its work on both facilities. In addition, HOK was the author of a $100,000 study, paid for by the Penguins, that determined that a new arena should be built because a renovation of Mellon Arena, the team's current home, would be too costly. Does this in itself represent a conflict of interest? Although everyone contacted by the Pittsburgh Post-Gazette took great pains to note that HOK had done nothing untoward, Marty Powell of Pittsburgh-based The Design Alliance Architects told the paper that asking HOK for advice on a new stadium "is a little bit like asking a barber if you need a haircut. The answer is 'Yes,' even if you had one yesterday."
Ken Ballard, principal of consultant Ballard*King & Associates, says it's "legitimate" for people to raise such questions, but adds that it is ultimately in a firm's best interest to tell the truth.
"Architects make their money on reputation," Ballard says. "If you're continually not able to live up to what you said in the feasibility study, you might as well pack it up and go home."
Consultants who conduct feasibility studies draw a distinction between privately and publicly financed projects. If a professional team is committed to building a stadium with a certain number of seats, for example, the feasibility study is really there to tell them just how much money they need to spend. In that sense, anything's feasible - it's just a question of how much it'll cost. The lion's share of public projects, on the other hand, must be voted on by the community and usually have finite resources to work with.
"On community projects, if you don't bring forward something that's doable, they're never going to have a project," Ballard says. "Plus, the potential for ruining your professional reputation is so high, you just don't want to try to push the envelope on a client. Most of the time, we lay it all out for them, and they have to decide if it's something they can take forward."
Brad Noyes of consultant Brailsford & Dunlavey says two pieces of evidence point to the industry's growing acknowledgement of the possibility for conflicts of interest. The first is the existence and growth of firms like his, which conduct feasibility studies for a flat fee, regardless of the eventual cost of a project, and don't in any event serve as design architects. The second is the increase in the use of procurement processes at many universities and municipalities where the first firms hired at the preplanning stage are barred from working on subsequent phases.
Noyes and Ballard both have a theory for why so many feasibility studies result in facility plans moving ahead: Pressure from the client. "A lot of times it's the clients who are so bleary-eyed trying to get this thing done that they become irrational in terms of what they think they can do," says Ballard.
Adds Noyes, "Most people who hire you to do a feasibility study are hoping that there will be a project. They want to believe that you're willing to say no, but they want you to say yes."