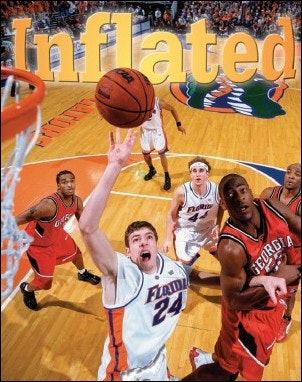 They are the focal point of most team sports, and the occasional center of controversy. They are bounced, bumped, head-butted, dunked, clawed-after and kicked. Theirs is a thankless job, performed for the glory of a few dozen athletes and the entertainment of millions of onlookers. It would be enough to deflate anyone's ego, except that we're talking about game balls - and the good ones just keep bouncing back for more.
Not that the makers of basketballs, footballs, soccer balls and volleyballs aren't puffing out their corporate chests a bit lately, and to no one's real surprise. We are in the midst of a technological revolution in gameball design, with manufacturers rolling out new innovations nearly as fast as Detroit's Big 3 crank out next year's minivan models. And just as car buyers weigh option packages, leagues, institutions and recreational consumers alike have never before faced so much choice at the ball rack. Says Doug Guenther, director of research and development for Wilson Team Sports, "We've seen more change in technology in the past five years than we have in the previous 50." Jeff Rich, business unit manager for inflatables at rival manufacturer Rawlings Sporting Goods, agrees. "With the advent of the new composites, we're seeing better materials, and we're seeing manufacturers who are focusing on the details that really enhance performance," Rich says.
Within this climate of technological Montezuma, the marketing of game balls can even begin to sound a lot like automobile ads. Take the warm, fuzzy language found in an April press release announcing the affiliation of Major League Soccer with the new Puma MLS match ball, which features a dimpled polyurethane cover: "Made to foster a relationship between product and player, foot and mind, the Puma match ball is the ultimate solution for any player looking for maximum performance." Wilson's web site, meanwhile, steers visitors through the various innovations found in the Wilson GST football - including, for example, the Accurate Control Lacing System - with point-and-click voiceover pitches provided by veteran ABC/ESPN play-by-play announcer Brent Musburger, not to mention Fox NFL-inspired sound effects.
Whether or not one is inclined to trust Musburger's canned word, it pays to shop around these days - no easy task, considering that institutional purchasing is often conducted via catalog, without any hands-on contact with the product. Whatever ball the buyer ultimately decides is best, there's little doubt that today's balls are challenging our preconceived notions of design and function, and in some cases rewriting the rule books.
The NCAA's decision last year to replace leather basketballs in its men's and women's tournaments with balls covered by synthetic materials drew national attention, applause from watchdog organization People for the Ethical Treatment of Animals and the ire of the National Cattlemen's Beef Association, a longtime PETA adversary. The switch, a first in the 64-year history of the NCAA, was arguably overdue. NCAA research found that 89 percent of the teams that qualified for the men's tournament in 2002, the last one played with leather basketballs, were using synthetic balls for their regular-season home games. Save for the NBA and a few old-school programs at the college level, leather basketballs are all but extinct.
Manufacturers are quick to point out why. For starters, synthetic balls feel like a broken-in leather ball right out of the box, and their performance remains more consistent over a longer life span and from one ball to the next. Today's synthetics even do a better job than leather of absorbing sweat, thus improving grip and shooting touch. Beginning in 1997, Duke University men's players tested prototypes of the Wilson Solution synthetic basketball, completely unaware (according to Guenther) that they were handling a ball constructed of synthetic materials. With the blessing of the Blue Devils, the Solution quickly caught on with other Division I powers and - ultimately - the NCAA.
This particular ball's cover is made using a wet-process polyurethane, which when fully cured exhibits sponge-like pores for a soft feel and enhanced sweat-absorption. To add abrasion-resistance and durability, Wilson coats the tips of each pebble in the ball's pebblegrain surface (embossed and colored to simulate the look of leather), while leaving the nooks and crannies between pebbles porous. Wilson has even made the black rubber that appears in the channels between panels porous - using a foaming agent that affects the curing process as the ball's bladder is heat molded - further enhancing the finished ball's controllability. "It's much easier to shoot, because you get a better feel with your fingers," Guenther says. "It's a better touch." He adds that inlaid channels, as opposed to the raised variety created by heat-molding the bladder, can now be applied using sweat-absorbing material, as well.
Rawlings, meanwhile, has put its own spin on basketball technology by introducing the 10-panel ball. Adding two panels to the traditional cover pattern of eight adds two channels, too, making the ball easier to handle and shoot, according to Rich. In yearlong tests that culminated in a survey of participating high school coaches, 94 percent ranked the grip, control and overall quality of the 10-panel ball as better than the ball the coaches' teams had been using, according to a Rawlings press release. Nearly as many coaches (86 percent) recommended that the National Federation of State High School Associations allow the ball to be used in competition. In April, the Federation altered wording within its basketball specifications to recognize the 10-panel ball, the first change to high school basketball specs in more than 50 years.
Rawlings conducted a similar survey of NCAA coaches in May, asking first what factors influence their choice of basketball. Conference or NCAA endorsement ranked highest, followed by overall performance, durability, grip, past experience, player request and price. Surprisingly, given the current state of change, product innovation outranked only a salesperson's recommendation at the bottom of the list. Of the 500 survey participants (split evenly along gender lines), a majority favored the 10-panel ball over their current eight-panel model in terms of overall quality (73 percent), grip (85 percent) and ball control (76 percent). "They understand that this is a better technology once they've gotten their hands on it and have used it in practices," Rich says.
While NCAA championships are now played with the Wilson Solution eight-panel ball, the Rawlings 10-panel ball has (since its launch less than two years ago) become the official ball of seven basketball organizations, appearing in everything from National Junior College Athletic Association championships to Gus Macker 3-on-3 tournaments. The company holds patents for up to 13 panels, though it has no intention of marketing such a configuration, says Rich. "We don't want to make the ball so radically different that it changes the game. However, we can make slight improvements to the ball that really do enhance grip, control and shooting for players," he says. "The real advantage is for smaller players and for women, because they have smaller hands."
Spalding, which this May became a division of Russell Athletic focused exclusively on ball manufacturing, offers what Dan Touhey, the division's vice president of marketing, calls "the single greatest technological advancement in sports balls" - the Infusion Micro Pump. By pressing a dime-sized black button on the ball and twisting it counterclockwise 45 degrees, the user releases a 2-inch stem that resembles the plunger on a syringe. Rapidly pushing and pulling the stem in and out pumps air into the ball, allowing for quick courtside pressure adjustments in case of underinflation.
Infusion technology debuted in basketball form in February 2001 (and subsequently was introduced to soccer balls, footballs and volleyballs), and a second-generation innovation, unveiled this year as the Infusion Dual Action Micro Pump, adds the ability to release air in case of overinflation by pressing and holding the button. Infusion balls still feature a traditional valve, located directly opposite the pump to counterbalance it and allow balls that are entirely flat to be inflated more efficiently. The pump can be found on high-end basketballs featuring composite covers, as well as economical rubber models. And with a dozen patents or patents pending, third- and fourth-generation Infusion pumps are currently in Spalding's development pipeline, Touhey says.
While some sporting goods distributors see Infusion technology appealing mostly to driveway players who can't keep track of a pump or needle in the garage, the Infusion basketball will next month complete its first season as the official game ball of the WNBA. It has served the National Basketball Development League for two seasons running. Nary a pump malfunction has been reported by either league, according to Touhey. "The laces came out of basketballs at some point in the 1930s," he says. "But how many times has the way players perceive or use a basketball changed over the past 100 years that has nothing to do with the materials on the outside of the ball?"
Spalding manufactures the official game ball of the NBA, too, but that league has clung to tradition and a ball that falls somewhere between laces and micro pumps on the technology continuum. However, PETA has the NBA in its conversion sights, and even Spalding's competitors envision a day when the league will bounce leather balls in favor of the synthetic kind. "I think at some point the NBA would definitely be open to it, because I think it would allow their guys to play at another level," says Wilson's Guenther. "That's the key. We want the players to perform better."
That goes for football players, too. The very name of the Wilson GST, which stands for Game Saving Technology, suggests that today's gridders are in need of some serious help. "We wanted to move the benchmark on footballs to something that makes it easier for players to play the game," Guenther says.
Constructed of genuine leather that is tanned a lighter brown for visibility, the GST incorporates a closed-cell neoprene sub-layer between the cover and bladder that creates more give in the leather and deepens the stitched seams between cover panels.
Also enhancing playability is a grip stripe (think college and high school footballs). Found on the ball's all-important ojibe (the name given to the area roughly two and a half inches from the tip where most passers' index fingers are placed), the stripe consists of friction-enhancing white urethane that permeates the inherently porous leather during a transfer process.
The biggest breakthrough, according to Guenther, is found in the laces. Unlike traditional PVC laces, which tend to be hard and slick, the GST's laces feature a pebbled wet-process polyurethane surface (for improved handling) and inner workings of vinyl wrapped around three strands of polyester (for strength) - technology not unlike what's found in a radial car tire. "It just gives you more confidence when you throw it," Guenther says.
The same spirit exists at Rawlings, where five-panel footballs are giving quarterbacks an edge by giving them an extra seam on which to place the thumb of their throwing hand. In addition, the ball affords placekickers a seamless back panel on which to connect. (While Rawlings holds the patent on the 10-panel basketball, an independent inventor named Jay Spiegel has patented the five-panel football.) The NFHS embraced the concept without even the benefit of survey data, according to Rich, and the five-panel ball has been used at the prep level for about a year. A survey of NCAA coaches was conducted earlier this year, though Rawlings is not yet ready to discuss the results. Meanwhile, the ball has already been adopted for NJCAA and NAIA championship play.
Panel configuration aside, several models of Rawlings footballs, whether covered in full-grain leather or polyurethane composites (the five-panel ball is available only as a composite), are treated to be tackier than traditional balls, thus giving quarterbacks, receivers and ball carriers new confidence. Leather hides are soaked in a wax-based chemical solution during the tanning process, with the goal of improving grip and feel throughout the life of the ball. Naturally, the presence of this waxy solution in the ball's cover also serves to repel moisture in inclement game conditions. Composite covers, on the other hand, are not tanned, but chemicals can still be applied to these balls to make them tacky. In addition, Rawlings has introduced to footballs a thicker lace, which stands up higher on the ball and allows quarterbacks to quickly secure an adequate grip.
Soccer has seen its own share of innovation, but with mixed results. On the opening day of the 2002 World Cup, ABC News reported that some players weren't ready to rally behind the official Cup ball - the adidas Fevernova. Some said the ball, which sandwiches a layer of foam padding between its polymer skin and latex bladder, was too light and soared too far. The manufacturer claims that the foam layer, as well as a textile mesh coating around the ball's bladder, result in a ball that flies faster (up to 80 miles an hour) and truer (due to improved in-flight shape retention). During pre-Cup testing, a robotic leg was able to strike the ball toward an 8-inch target from a distance of 20 to 25 meters (65 to 82 feet), and hit the target 50 percent of the time, according to ABC's report.
The Puma MLS match ball represents that league's third official game ball in its eight-year history. Before making its latest selection, MLS officials gave each member team a supply of the dimpled balls to test. "We actually did adjust the ball a little bit from the initial sample," says Stu Crystal, MLS vice president of marketing and consumer products. "That first ball was based on a European field, which tends to be a little softer than American fields. Here, the ball was a little too firm, a little too lively."
The tweaks came under the surface, and involved the number of plies in the ball's bladder system. But the dimples remain, and all parties involved are smiling. "It's rare that you get universal acceptance, and all the feedback that I've gotten has been positive," Crystal says, referring to his own informal surveys of MLS players. "I haven't heard any complaints, which in my mind is the greatest success of all." Says John Stevenson, vice president of team sport at Puma North America, "The ball is inspired by the technology used in golf balls. The dimpled surface area creates a layer of air turbulence around the ball in flight to ensure maximum trajectory, precision and increased shooting speed - great for strikers, and a bit of a nightmare for keepers." (That said, MLS scoring is down. Through June, an average 2.74 goals per game were scored this season, trailing the 3.01 average produced during 432 regular-season games in 2002.)
Sometimes games can be improved by slowing them down. With the 2000 Sydney Olympics came two major changes to international volleyball in terms of the match ball's appearance and performance - multiple colors replaced traditional white, and composite material replaced leather. The softer composite slowed down balls being bumped and spiked, while the color scheme allowed players to visually pick up ball rotation more easily. The result of both changes was longer rallies and better TV viewing, according to Nick Bettis, national sales manager at Mikasa, which has produced the official Olympic indoor volleyball since 1964 and the official outdoor ball since 1996 (the year beach volleyball debuted as an Olympic sport), and will continue to do so through at least 2008. "The composites just keep getting better," Bettis says. "As these new materials come out, the prices continue to come down, which benefits the consumer."
Amid the explosion of technology found in today's inflatable game balls, the consumer appears to be the clear winner. But what might happen to the games themselves. Is it possible that inflatable ball technology may have too great an impact on the sports that technology intends to serve - just as, many contend, the tradition and integrity of golf and bowling have been compromised by advances in ball manufacturing?
Rich, for one, downplays potential record-book impact of ball technology, pointing to Rawlings' five-panel football as one example. "Truthfully, is this going to change the way football is played. No," he says. "But it is an improvement. It's an incremental change. I'm not sure anyone would want to introduce radical change to these games; they've been around for a long time. But if we can see slight technological improvements, that's a much better way to go."
Adds Guenther, "As products improve, it makes the game easier to play. The whole level of the game will improve and become more interesting for the fan base. Is it going to affect the baseline for statistics on catches and throws. You could make a pretty good argument that it could. But I just think it's good for the game when players can perform at a higher level."