Brian Diesbourg, the winner of a Wendy's promotion in Toronto, will receive $25,000 a year until 2045, not the $1 million lump sum that some TV viewers thought he would receive.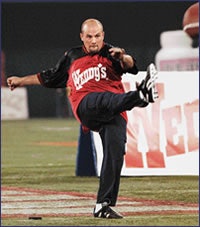 When Brian Diesbourg, a 25-year-old mechanical engineer, got set to attempt a 50-yard field goal at halftime of a Toronto Argonauts Canadian Football League game on Oct. 27, some 600,000 people tuned into television station TSN, many of them just to see whether he would walk away with the promotion's $1 million grand prize. The fans were not disappointed - Diesbourg made the kick - but the result outraged quite a few of them.
Although Diesbourg was handed the standard oversized check reading "$1,000,000" on the field, he (or his heirs) will in fact receive $25,000 a year until 2045. Based on current interest rates, the cost of such a 40-year annuity to Wendy's (the promotion's sponsor) and SCA Promotions (the Dallas-based firm that ran the promotion and insured against Diesbourg making the kick) comes to a little more than $500,000.
Although Diesbourg said he was ecstatic and got exactly what he signed up for, the airwaves over the next several days were filled with the sound of fans complaining about not getting their money's worth. For example, TSN viewer Patricia Chandler, who tuned in just to watch Diesbourg, told The Toronto Star that she "felt cheated. It was misleading. All the buildup made it look like he was going to get to be a millionaire."
Stung by the perception that its contest wasn't completely honest, Wendy's sent spokesperson Sharon Reid out to set the people straight. "The important thing here is Brian won $1 million and he's going to receive $1 million," Reid told the paper. "The rules of the contest were spelled out for people who entered the contest. It was very clear how the money would be paid out."
Mick Luckhurst, owner of SCA rival American Hole 'n One of Buford, Ga., has a fair amount of knowledge both of the promotions business and field goals, having been a kicker for the NFL's Atlanta Falcons. Luckhurst says clients typically choose a long-term payout as a way of getting a bigger payout bang for their investment buck, though he discourages them from, for example, giving away a two-year car lease rather than a free car, which can end up being perceived negatively. In this particular case, Luckhurst says SCA and Wendy's don't deserve the criticism, even while he questions some of the contest's particulars.
Diesbourg, he notes, was given a tee and allowed to attempt field goals of 35, 40 and 45 yards for lesser prizes before trying the 50-yarder. "We wouldn't allow someone four kicks for a million dollars," Luckhurst says. "It gives the person a chance to get used to the crowd, get used to the distance. It definitely increases the chance he or she will make it."
Luckhurst pauses. "I mean, you want someone to do it," he says. "I'm sure the crowd went wild when they saw the ball go through. I can't imagine anyone who saw it didn't think it was one of the coolest, most exciting things they'd ever witnessed. I would send anybody who's complaining to the doctor. They need an antidepressant."