Could red be the new blue? Following the lead of Eastern Washington University, Canyon High School in New Braunfels, Texas, unveiled a new red synthetic turf at Cougar Stadium this week. The school's football/soccer field has been dyed to match its red and black team colors. The Comal Independent School District spent $800,000 to replace turf fields at Canyon and Smithson Valley high schools, and lay down a new surface at Canyon Lake High School, according to the San Antonio Express-News. Smithson Valley and Canyon Lake have colored end zones (blue and gold, respectively), but administrators there opted for traditional green playing fields.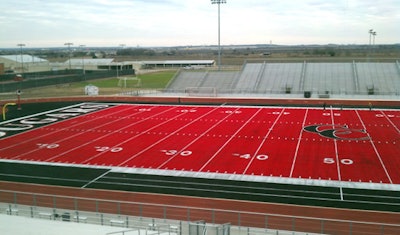 "It's not as bad as you might think it is," Canyon boys' soccer coach Rob Rush told the Austin American-Statesman on Thursday after his team posted a 2-1 victory over Lockhart on the new red field. "You get used to it pretty quick. The first time I looked down, I lost focus, but you adjust pretty quickly. The players love it."
Media outlets initially reported that Canyon is the first high school in the country to install colored turf; rather, it is believed to be the first one to have a red field. Hidalgo High - about 275 miles south of New Braunfels - laid down a dark blue field in 2007, and at least three other high schools have blue turf, too, a la Boise State University: Barrow (Alaska) High, Lovington (N.M.) High and West Hills High in Santee, Calif.