The old concept of pay-to-play programs is wreaking new havoc on athletic departments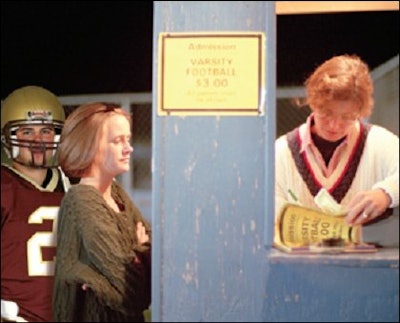 If Bryan Brown, a four-sport 1992 graduate of Oakmont Regional High School in Worcester, Mass., were to participate in athletics at his alma mater today, it would cost him $2,050 to be on the Spartan football, basketball, baseball and track teams. "There's no way my parents would have been able to afford that," says Brown, now athletic director at his old school, which collects what are among the highest student-athlete pay-to-play fees in the country. "The only way we can maintain programs is to ask for more money from taxpayers, but they can't afford more because we're in the middle of a $32 million tax-funded project to rebuild the high school. It was either do pay-to-play or cut the sports programs. The district would have been better off cutting sports completely."
Oakmont Regional (enrollment: 730) charges a $550 base fee for the first sport a student-athlete plays, plus or minus a few hundred dollars, depending on the activity. For example, there is a $300 surcharge for football players, because of the added equipment-related expense of that program - raising the cost of strapping on a helmet to a whopping $850. On the other hand, $100 is refunded to every participant on the cross-country teams. The second and third sports a student-athlete plays each require a $300 fee, not including surcharges. Collectively, the fees cover the entire cost of the athletics program, from travel and uniforms to coaches' salaries and officials' paychecks.
The pay-to-play concept is not new, although several more districts around the country seem to be opting for that alternative as a way to offset at least some of the costs associated with running a sports program.
"The economy is such that school districts are looking for places to save money, and they first look to programs not mandated by state departments of education," says Tim Flannery, an assistant director of the National Federation of State High School Associations. Other programs, Flannery adds, such as drama, chorus and band, are also targets of participation fees. The pay-to-play issue usually surfaces as an ultimatum when districts need to pass a referendum.
But considering that an athletic department's allotment rarely exceeds three percent of a school's total budget, opponents of pay-to-play argue that districts are looking in the wrong place. "You tell me how much fun school is without activities and sports," Flannery says. "Pay-to-play, unfortunately, has escalated in the past couple years. And I'm afraid it's going to get worse. If a school gets into a pay-to-play situation, it may never get out."
During the past two years, Oakmont Regional has eliminated five sports - varsity hockey, indoor track, freshman football, freshman field hockey and freshman girls' basketball - because there weren't enough players to either suit up or cover the expense of the programs. Combined varsity and junior varsity girls' basketball is on the bubble for next season.
Some Oakmont Regional student-athletes have transferred to schools with lower fees or no fees, while others have joined area Amateur Athletic Union leagues that actually cost less than the school's athletic programs. Other kids simply don't play. Overall participation in athletics at the school has dropped 25 percent - from 619 during the 2000-01 school year (when students paid a flat fee of $35 per sport) to 463 during 2001-02 (the year higher fees were implemented).
Based on the 2002 fall sports season, Brown expects numbers to drop even more. Football, for example, fielded only 32 players for the 2002 season on combined varsity and junior varsity teams, down from 47 two years ago. "Every single kid played both ways," he says. "We don't have bench players. No one wants to pay $850 to come in off the bench and play on special teams."
Typically, pay-to-play fees range from about $50 on up to several hundred dollars. In Kansas, the number of pay-to-play programs jumped more than 70 percent for the 2002-03 school year, according to a survey by the Kansas Association of School Boards. Most of those schools charge fees of no more than $50, although some districts often have little choice but to go higher.
When the Blue Valley Unified School District asked parents last fall if they would pay a fee ranging between $50 and $100 for their children to play sports at Blue Valley High School, 94 percent of the respondents said yes, if the alternative was cutting teams or programs. At press time, district officials were still mulling their options.
Meanwhile, had a February referendum failed, student-athletes at Wadsworth (Ohio) High School would likely have seen pay-to-play fees more in line with those at Oakmont Regional, ranging from an estimated $165 to $600.
Outside of a successful referendum, there are other ways districts can deter pay-to-play programs. Brown suggests cutting only certain elements of an athletic budget, eliminating perhaps one major boys' and girls' sport each season, as well as some no-cut teams. Oakmont Regional's booster club also is in the process of collecting and investing funds to eventually offset the pay-to-play program. "But even if that happens, it's going to take two or three years to just get back to where we were," Brown says. "I wish we would have known to do this 10 or 15 years ago."
Tim Carras, athletic director at North Olmsted (Ohio) High School, actually intervened with his district's school board after a failed referendum last February resulted in the elimination of all interscholastic sports teams. He convinced district officials, who had already emphasized that a pay-to-play program would not be implemented if the referendum failed, to reinstate the varsity spring sports season and request another referendum that May.
"I was fearful for our board members' safety," says Carras, recalling a school board meeting held shortly after election day that February, during which several hundred parents showed up to voice their displeasure at the board's dismissal of athletics. "It was ugly. It was a mob atmosphere. These people did everything but throw the ropes over the beams. I almost called the cops twice."
Instead, he stood up at the meeting and asked parents to give him and district officials a couple of days to sort things out. "I said to the board, 'I know these people. If you give back spring sports, they will consider you to be compassionate. They will feel you're finally listening to them and they will vote for a tax levy next time."
The parents did listen, raising enough money to provide transportation service for varsity teams that spring, accepting the elimination of several coaching positions and campaigning for the referendum - which passed last May, saving North Olmsted's entire athletic program. Says Carras, "It helped our community band together and see what we can accomplish."
In California, some schools have avoided eliminating athletics by partnering with municipal park districts or private clubs to run their athletic teams. Student-athletes pay participation fees to an outside entity, which then handles all of the team logistics.
That strategy isn't surprising, considering California is the only state in the country with a law on the books prohibiting schools from charging fees for all school extracurricular activities. Budget-strapped schools in that state are being forced to find alternatives to pay-to-play in the wake of no fewer than seven lawsuits in the past four years filed by the United States Justice Foundation (a nonprofit legal-action organization based in Escondido, Calif.) against districts violating a 1984 California Supreme Court ruling. That ruling states that fees for extracurricular activities violate the "free school guarantee" of the California Constitution and are illegal even when districts can't afford to pay for programs themselves.
Suits against the Pasadena and Escondido Unified School Districts have been settled, requiring district officials to refund the fees their schools collected in recent years to students and their families who file the proper paperwork. More settlements - and more lawsuits - are pending.
"The reality is that virtually every superintendent in this state knows about our lawsuits," says Gary Kreep, executive director of the USJF. "The law says schools can't collect those fees in the first place, so how they repay them is within their own purview."
Kreep says one Escondido school charged football players a $100 transportation fee, while others in the Capistrano Unified School District collected almost $4,000 a year from individual cheerleaders. Some band and choir fees were $600 and $750, respectively. He adds that parents from other states recently began contacting the foundation, inquiring about their legal options in pay-to-play situations.
School administrators in California are trying to fight back, though. Earlier this year, Capistrano Unified Superintendent James Fleming was hoping to modify the state law in an effort to combat the devastation expected from a proposed $5.4 billion cut in California's education budget. Fleming's proposal involves charging families that school officials deem capable of affording the fees, while letting student-athletes from lower-income families play for free. His district reportedly would save up to $2.7 million of its $305 million budget, but opponents argue that the plan would do little to serve districts in poorer communities. "It would be very difficult for our students to pay," Al Mijares, superintendent of the Santa Ana Unified School District, told the Orange County Register.
Meanwhile, unrestrained by legal challenges, schools in other states continue to take advantage of the pay-to-play option. And at Oakmont Regional, the exodus of players continues. "I had a kid come into my office the other day, asking if she could get some financial aid to play sports," Brown says. "There's none available. All I could do was tell her to go out and find a job."