Venues and facilities world-wide review policies regarding nursing mothers and breastfeeding in public.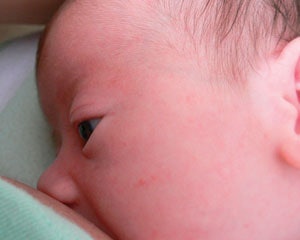 Last June, when the City of Hiroshima, Japan, began circulating entry guidelines for a stadium design competition that will ultimately render a new baseball home for the Hiroshima Toyo Carp, it listed among the stadium's "required rooms" - right between "VIP lounge" and "first-aid room" - something called a "nursery/ breastfeeding room."
Whether such a requirement equates to Hiroshima hitting a political-correctness home run is open to debate, at least when compared to widely varying public venue policies regarding nursing mothers here in the United States. American stadium architects report programming only family rest rooms or customer relations rooms to accommodate issues of patron privacy, and written breastfeeding policies among existing facilities are rare.
Dell Diamond, home to the Class AAA Round Rock (Texas) Express, didn't have one - at least not until the ejection of a nursing mother from her stadium seat in May prompted a public relations disaster for Express management. According to the Austin Chronicle, women's groups threatened a boycott, even a "nurse-in," and letters began arriving at the Express front office virtually overnight. Within days, the team's stadium policies were amended to include the following: "The Round Rock Express welcomes mothers who want to breastfeed in the Dell Diamond. The Round Rock Express has privacy areas available, or mothers may breastfeed in any public location of the Dell Diamond. All members of the Express staff will support the needs of breastfeeding mothers in this regard."
In their defense, team representatives had given the mother the options of either nursing in a first-aid station or leaving the stadium and receiving a refund. She was ultimately escorted to a luxury box, where she was allowed to nurse her child - as long as she didn't do it on the balcony.
But even that compromise was a violation of state law. Chapter 165 of the Texas Health and Safety Code "recognizes breastfeeding as the best method of infant nutrition [and ensures a mother's right] to breastfeed her baby in any location in which the mother is authorized to be." Similar laws allowing mothers to breastfeed in public exist in at least 38 states, according to the National Conference of State Legislatures. Kansas passed its law in March, thanks in part to the efforts of Lawrence resident Amy Swan and other breastfeeding advocates. According to the Lawrence Journal-World, Swan was breastfeeding her six-month-old daughter in a health club four years ago when a man told her he didn't want his young son exposed to the sight.
Such complaints (nursing mothers often prefer to call it harassment) became so common at a municipal pool in Canada between 1996 and 2001 that the Breastfeeding Action Committee of Edmonton emerged as a unified lobbying front. The city promptly addressed the new group's concerns with a three-page letter stating it would communicate to complainers that breastfeeding is legally acceptable at - or even in - public pools and "that there is no strong evidence of any health risk, to infants or to other users of the facility, through people breastfeeding in the water."
Back in the States, the issue of accommodating nursing mothers got a bit murkier still when an appropriate place for a woman to pump her breast milk came into question last fall at the University of Wisconsin's Camp Randall Stadium. Longtime season-ticket holder Amy Olson says that, unlike with her first child in 2001, she was denied access to a stadium first-aid station for pumping purposes. Senior associate athletic director Doug Beard told the Wisconsin State Journal in November that federal health information privacy rules now preclude giving nursing mothers access to first-aid areas. Instead, women are directed to the stadium's family rest rooms for breast pumping and feeding. (Those facilities are located only in the stadium's lower bowl, however, while Olson's seats are in the upper deck.)
According to Beard, "We feel it's totally inappropriate" to allow nursing mothers access to first-aid rooms, where "we're tending to the ill and the sick." Beard went on to call Olson's questioning of the school's policy "ridiculous" and, according to WSJ columnist Susan Lampert-Smith, suggested that perhaps nursing mothers don't belong at games. "People have to make personal decisions about how they conduct their lives," Beard told Lampert-Smith. "I don't think we have to accommodate it."
As it stands, Wisconsin is not on the NCSL's list of states in which public breastfeeding is expressly legal. However, a breastfeeding mother cannot be charged with public indecency in Wisconsin, per current statutes. Meanwhile, the NCSL reports no knowledge of legislation in any state specific to breast pumping.
That said, the public outcry provoked by the UW's perceived stance led to the announcement of a post-season stadium policy review. According to a follow-up column by Lampert-Smith, athletic department officials made it clear that they would provide chairs and whatever else might be needed to make family rest rooms more suitable for nursing mothers.