"Tips" for NCAA rules appear in unconventional places.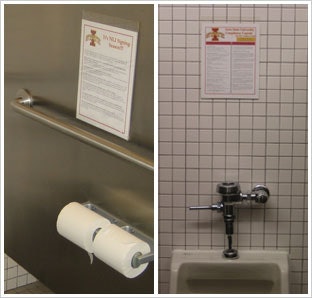 An increasing number of University of Colorado fans are flush with compliance knowledge these days - particularly if they've visited the restroom during a Buffaloes football or basketball game. CU's "Tips from the Toilet," short reminders of what representatives of the university's athletic interests (boosters and ticket holders) can and can't do within NCAA rules, are laminated and taped to the walls above urinals or on the backs of stall doors.

The first postings appeared two years ago in the Dal Ward Athletic Center, an administrative building, and targeted primarily student-athletes and staff. To reach more boosters, the program has since branched out into spectator venues. Face-to-face and Facebook communication with prospective recruits is covered, among other hot topics. "We probably have 40 different messages that we put up throughout the course of the year," says CU compliance coordinator Julie Manning, adding that messages change weekly in the administrative building, before every home football game at Folsom Field and after the men's and women's basketball teams have played successive home games at the Coors Events Center.

A similar program at Manning's alma mater, Iowa State University, served as inspiration for Tips from the Toilet. ISU has posted tips in the restrooms of certain suites and club seating areas of Jack Trice Stadium, as well as its adjacent administrative building, since the fall of 2006.

CU compliance officers haven't washed their collective hands of pregame public-address announcements or brochures mailed to season-ticket holders, which have become Division I delivery standards. But when asked if she can trace a decline in fans' compliance-related inquiries to the restroom primers, Manning says, "Actually, it's just the reverse. People are calling or they're using the posted e-mail account. We've heightened awareness of a lot of these issues, and we're getting people to talk about them. I hear that buzz, and I know it's having an impact."