Online auctions in the athletic, recreation and fitness industries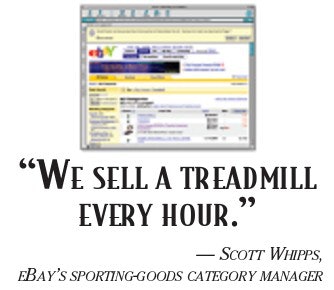 Last June, the Staples Center in Los Angeles auctioned off 150 VIP packages of the best seats in the house for a boxing bout between undisputed heavyweight champion Lennox Lewis and contender Vitali Klitschko. Each package - offered via Ticketmaster - included two ringside seats, a Lewis-autographed boxing glove, preferred VIP valet parking, and admission to prefight and post-fight events. Estimated total value of each: $3,000. The highest-paying bid: $7,000.
Major League Soccer's Chicago Fire didn't quite generate that kind of revenue from its "Summer of Soccer" 2003 game-experience packages available through the online auction site eBay. Still, the effort, which included special family deals and opportunities to be part of the action, was an attempt by team officials to target more ticket buyers.
"One way to establish a fair price for the best tickets is through an online auction, open to the general public, allowing the market to determine the price," says Timothy Leiweke, president of the Staples Center and its parent company AEG. "The Internet enables anyone to participate."
Thus, Internet auctions have become big business, and not just for professional sports teams and venues. Forrester Research, a Cambridge, Mass.-based independent technology research firm, predicts that online auction sales will reach $54.3 billion - or 25 percent of all online retail sales in the United States - by 2007.
Some industry associations run their own auctions, but many others team with eBay - far and away the most popular auction community in cyberspace with 86 million members worldwide. Late last year, for example, the U.S. Women's National Soccer Team auctioned off such one-of-a-kind autographed items as Mia Hamm's game jersey, Julie Foudy's team-captain armband and even Brandi Chastain's sports bra. Defender Joy Fawcett's practice socks, signed by the entire team, fetched $149.12.
When eBay, founded in 1995 as a way for individuals and businesses to sell goods and services through either auction or fixed-price formats, opened eBay Sports (sports .ebay.com) in October 2002, it began changing the way the athletic, fitness and recreation industries operate. Thousands of items - including tickets, equipment, memorabilia, licensed apparel and collector cards - are among the 21 million items available on the site at any given time.
Site officials say fitness equipment is one of eBay's most popular sporting-goods categories. An average of 10 percent of all cardiovascular and strength equipment up for bid on eBay is commercial equipment, according to Scott Whipps, eBay's sporting goods category manager. And that percentage is growing. Between October 2002 and October 2003, gross sales of all types of fitness equipment increased by 51 percent, says eBay spokesman Hani Durzy. The final-bid prices of many items often wind up being considerably lower than the items' suggested retail prices.
"We're looking to work with manufacturers as a channel for them to list new and refurbished products that may need to be moved out for inventory control," Durzy says. "eBay's approach to the fitness market is that we're part of that market's ecosystem."
Whipps adds that the site is not interested in competing with manufacturers: rather, it provides them an opportunity to pick up some sales they might not otherwise get. "And I'm sure there are some entrepreneurial club owners out there who are using eBay to liquidate," he says.
Administrators at parks and recreation departments, high schools and colleges also can log on to Internet auction sites to find items like new and used paintball equipment, climbing and hiking gear, canoes, heartrate monitors, pool tables and air-hockey games.
A feedback system on eBay and other sites allows buyers and sellers to rate each other based on their reliability and fairness. As a result, more people than ever are using the medium to find plenty of unexpected deals. "We sell a treadmill every hour," Whipps says.