It's not an easy time to be a woman in the sports world. Male sportscasters are heaping on the sexual misconduct behind the scenes and scorn on the screen, male-dominated corporations are pulling their support of women's sporting events, and even sportswomen are having trouble coming up with the names of women's sports' biggest stars.
The year began with ESPN - no stranger to sexist misbehavior - firing announcer Ron Franklin after he told Fiesta Bowl sideline reporter Jeannine Edwards, "Why don't you leave this to the boys, sweet baby?" and responded to her objections with an expletive. In the latest example of male boorishness, the UK's Sky Sports suspended Andy Gray and Richard Keys, two of Britain's leading soccer commentators, on Monday for making sexist remarks about two female game officials and a team executive when they thought their microphones were turned off. On Tuesday, Gray was fired from his $2.7-million-a-year job when earlier incidents surfaced. (Even Americans mystified by Gray's thick Scottish brogue during World Cup telecasts and EA Sports' FIFA soccer videogames will be able to recognize his past sexist behavior from videos that are suddenly swirling around the Internet.)
In the world of tennis, meanwhile, the early exit of Venus Williams from the Australian Open prompted a lament from female reporter Shannon J. Owens (of the Orlando Sentinel) about the dearth of "recognizable faces" in all women's sports. Especially new ones: After listing the four Americans in Forbes' top-10 list of highest grossing women athletes (Venus and Serena Williams, Indy racer Danica Patrick and golfer Paula Creamer), neither Owens nor a local prep-sports athlete (basketball player Taryn Griffey, daughter of Cincinnati Reds great Ken Griffey Jr.) could come up with anyone other than pro hoops star Candace Parker. ESPN women's basketball analyst Carolyn Peck, asked the same question, was stuck in the '90s with Lisa Leslie and Julie Foudy.
"So why is it" (Owens asked) "that during a time when peak performers and interesting personalities among women's sports are plentiful, Erin Andrews, a media personality, is considered a more attractive candidate to land a shoe endorsement like Reebok Zig-Tech?"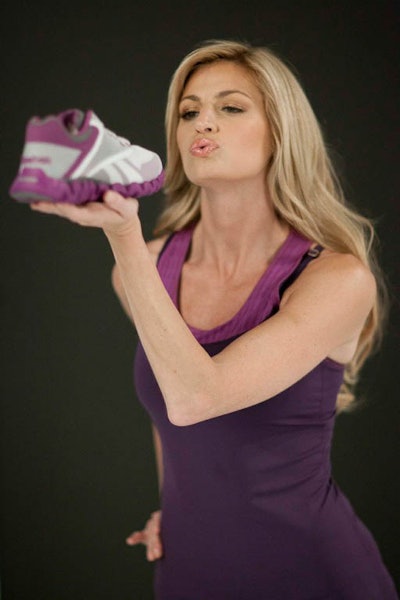 Why, indeed, when the men associated with the campaign, such as Peyton Manning and Sidney Crosby, are all actual athletes? It'd be hard to argue with Shawn Ladda, president of the National Association for Girls and Women in Sport, who told Owens, "We still haven't accepted the value of the female athlete."
Not like we did a decade ago, when the Women's World Cup won by the American team on American soil signaled a newfound respect for women's athleticism. Remember those heady days, of athletes posing naked with soccer balls, of Brandi Chastain's sports bra, of the self-described Booters with Hooters? Remember how Kristine Lilly, who saved the Americans in the final against China with a header off the line in extra time, was completely ignored and forgotten by the media and advertisers, while the more quote-unquote "marketable" Mia Hamm said or did nothing of consequence during the tournament, but made millions in endorsements?
It is difficult to see a way forward from this state of affairs, when the evident sexism of many of the men involved in reporting on and marketing women's sports is abetted by women's league executives, athletes and even sportscasters who choose to play by the men's rules. Every league that uses sex to sell, marketing its athletes with pinup calendars; every athlete who poses naked as some sort of nod to "athleticism"; every "marketable" sportscaster who feeds a marketing machine that objectifies women helps undercut the effort to portray female athletes as athletes first. Anyone serious about wanting to celebrate women's athleticism would keep her clothes on and let her on-the-field exploits speak for themselves. And any sportscaster serious about wanting to celebrate women's athleticism would recognize what Reebok was attempting to buy, and refuse to sell it.