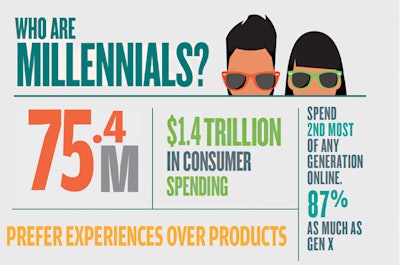 Much ink has been spilled about millennials — the generational cohort born roughly between the early 1980s and the late '90s — and for good reason. According to the Pew Research Center, millennials surpassed baby boomers as the largest living generation in the United States last year, boasting 75.4 million members. And their influence transcends mere head counts. Millennials spend about $600 billion domestically each year and are projected to command more than $1.4 trillion in annual purchasing power by 2020.
These factors make millennials an attractive target for marketers, but reaching them can be a challenge. How can your brand make a lasting impact on this up-and-coming demographic? It'll take more than a few emojis.
Millennials separate themselves from other segments in that they tend to prioritize experiences over products. A 2014 study found that 78 percent of millennial respondents would rather spend money on an experience than a thing. "The baby boomer generation, which was one of the biggest consumer generations ever, was marked by their ownership of anything and everything," writes Victoria Heckstall for business.com, adding that millennials are different. "For them, experience is worth more."
Social media is a key driver in this shift in buyer behavior. As "digital natives," millennials came of age with the internet. They are the most social-media-savvy individuals in our society, and they carefully curate their digital lives. If you offer an experience worth sharing, count on millennials to do so.
---
More from AB: Blink Fitness Launches 2017 Ad Campaign Featuring Real Gym Members
---
With this in mind, it's important to incorporate technology into your branding strategies. For fitness and recreation facilities, this means making sure to offer reliable Wi-Fi or utilizing connected fitness equipment and the "Internet of Things" to increase opportunities for on-premises connectivity.
Millennials crave connections with their preferred brands. They want to interact with brands and engage them in two-way conversations. "[Millennials] expect brands to not only be on social networks, but to engage them," writes Dan Schawbel. According to his 2015 article in Forbes, 62 percent of millennials say they are more likely to become a loyal customer of a brand if that brand engages with them on social networks. One key to this is ensuring your brand's voice sounds like a person. "Millennials connect best with people over logos," Schawbel says.
Building this sort of brand persona can help to ensure loyalty over time. "The way for brands to build loyalty in the 21st century is to behave more like people," noted Douglas Brundage, vice president of strategy at Team Epiphany in an article for Ad Age posted online.
When millennials interact with brands on social media, they're able to communicate an aspect of their personality to peers. By "liking" a gym brand's Facebook page, for example, not only are they signing up for interaction — they're showing off an interest in fitness. In this way, millennials are branding themselves.
Moreover, millennials turn to brands that signal certain values. Blink Fitness' 2017 marketing campaign, "Every Body Happy," capitalizes on this by featuring real-life gym members of vastly different shapes and sizes, signaling that everyone should feel comfortable in Blink Fitness locations. It's a celebration of inclusivity and body positivity over physical appearance. Equinox, on the other hand, chose a different route with its 2017 ad campaign, "Commit to Something." The campaign focuses less on the luxury gym and more on tying commitment to the Equinox brand. "There seems to be a push for ease and an overall lack of commitment today," John Parker, creative director for Wieden + Kennedy, told Ad Week. "These [images] were designed to point out that commitments, not only in fitness but in life, fundamentally define you."
These differing brands not only attract certain clienteles but help their respective users represent themselves through the lens of the brand. In this new era of millennial plurality, it has never been truer that a brand embodies the identity not only of the company that creates it, but the buying public that embraces it.
---
This article originally appeared in the June 2017 issue of Athletic Business with the title "How Brands Break Through to Millennials" Athletic Business is a free magazine for professionals in the athletic, fitness and recreation industry. Click here to subscribe.