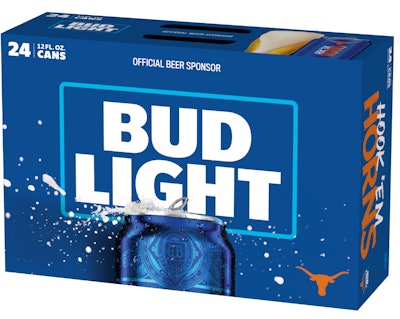 The University of Texas on Thursday announced that it will make Anheuser-Busch the exclusive domestic and craft beer sponsor of University of Texas athletics, the Texas Exes UT alumni association and the AT&T Red River Showdown rivalry game with Oklahoma.
The five-year deal coincides with Bud Light's release of limited-edition Longhorns co-branded packaging featuring the iconic 'Hook `em Horns' rally cry.
"We are so grateful for the commitment and support from our friends at Anheuser-Busch and Brown Distributing," said University of Texas vice president and athletics director Chris Del Conte. "Their passion and pride for Texas Athletics and our Longhorns is such an important part of this. They're just a fantastic group of folks who are awesome to work with and will absolutely share our devotion to our great Texas fans everywhere. We're so excited to welcome Anheuser-Busch to Longhorn Nation as an official sponsor."
According to a press release, one in every seven Bud Lights sold in the U.S. is sold in Texas, and Anheuser-Busch's Houston Brewery has been handcrafting Bud Light since its introduction in 1982. The brewery currently employs over 600 local Texans and brews 87 percent of all Bud Light sold in the state.
Anheuser-Busch will have exclusive in-stadium advertising rights for domestic and craft beer. It also will have non-exclusive rights for ready-to-drink canned cocktail beverages and brand visibility through multiple university platforms, including videoboard and field level signage, balcony LED ribbons, concourse level activations, and Longhorns media and broadcast integrations across social, digital, print, tv, and radio.