At the 2009 Athletic Business Conference & Expo, we gave a talk called "Your Business Is in Their Hands" in which we discussed the impact the Millennial Generation is having on the fitness industry.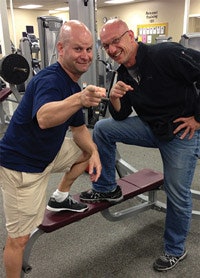 We have seen the future... and its boxer shorts are sticking out of the top of its pants.
At the 2009 Athletic Business Conference & Expo, we gave a talk called "Your Business Is in Their Hands" in which we discussed the impact the Millennial Generation is having on the fitness industry. It was a bit overwhelming then, trying to figure out how to manage these "kids," and now the inexorable march of time has made the Millennials the most important segment of our industry's employee base. Why? Because they collectively are the employee base!
Millennials today are generally considered between 11 and 31 years old. There are 80 million of them in the United States, outnumbering the Baby Boomers, and they are the ones entering the job market while the Boomers are exiting. Already, the oldest have been in the workforce about 10 years.
Back when they were 21, we thought they were pretty bad. Entitled. Overconfident. Unaccustomed to being told they weren't good at anything. Well, looking back, they were job-seeking rock stars compared to their present-day 20-something counterparts. Today, just choosing candidates to interview is getting evermore difficult.
Granted, not every job in fitness is the same, and some jobs may be easier to fill than others with today's Millennials. You might have a collegiate facility where students will be training other students. Or you might have a not-for-profit where you need trainers to quietly monitor the weight room floor. At a big box facility, you might be looking to hire young salespeople. At our clubs, we look for trainers with excellent communication skills, because they are expected to train, tour and even sell.
UNIVERSAL HIRING TRUTHS
So, yes, every club and every job might be different, but there are certain universal truths when it comes to hiring. Thomas Jefferson might call these truths "self-evident" - and they were to us when we first started looking for work in our 20s - but they are not to young people today.
We've put together a few pointers for today's young job seekers based on inquiries we've received this year. It's pretty obvious that nobody has ever given these individuals advice on how to present themselves when looking for a job. So, please keep these rules handy, train your own employees on them for when they are interviewing candidates, and maybe go so far as to hand a copy to the worst offenders who walk in your door or send you an email looking for work.
Fitness is an informal industry. But not THAT informal. Showing up for an interview at a health club in jeans and polo shirt (or the equivalent for a young lady) is, to us, fine. Shorts and flip-flops are not. Having those shorts down at your hips so that we can see your boxers will cause us to ask you to turn around and leave.
Spelling and grammatical mistakes will cause us to dismiss your inquiry, regardless of your qualifications or the content of your resume. You were supposed to learn English somewhere between junior high and high school. If you still haven't learned it by the time you've left college, we have no time for you. Spelling matters ("there" and "their" can be tough). Punctuation matters (use some, you'll like it). Typos are unacceptable (those darn spell checkers miss properly spelled words that are in the wrong context).
Trying to describe how smart you are has the opposite impact. We received an employment inquiry in which we were told, "I know everything about working out and health" and "I know everything about health clubs." Really? We've been doing this for as long as you've been alive, and we couldn't make either of those claims.
The things that impress your parents don't translate well. We don't care that you've "completed P90X 20 times and Insanity about 6 times" (you aren't even sure?) or that you "hope to break the world record in the dead lift." If you want to be a swim instructor for us, you should likely have more to say than "I have always been a good swimmer and took swim lessons as a child." It also doesn't help you to tell us "all my friends want to know what workouts I've been doing" or that you "can see a persons body (she left out the apostrophe, not us) and know what they need to do to tone it up!" (although the exclamation point was a nice touch).
We appreciate someone who is naively charming. But there's a fine line between that and dumb. If you're young, inexperienced and motivated to work in fitness, we don't mind if you tell us a bit about yourself. You can "love fitness" and say that you've "always wanted to work at a gym." But let's not say things like "I'm a worker-outer" or (with our gyms being in the Pocono Mountains) "winter is coming and I'd like to get a job close to the slopes."
MILLENNIAL JOURNEY
If you are wondering, yes, every single thing that's quoted above was actually written or said to us by would-be employees in 2013. The good news is that by sharing these examples with our existing employees, who are not all that removed from the younger members of their own generation and who are now participating in the hiring process, we are hoping they see how far they have come. It wasn't long ago that many of the staffers we have today - who are now professional, reliable and trustworthy - were prone to the same sorts of gaffes. But we developed rules for Millennials once on the job. They had to learn that they didn't know it all, that they weren't entitled to just about anything, and that we take our jobs and our business seriously, because that's how we pay our mortgages and feed our families.
Indeed, they have come a long way, and we want them to keep that in mind as we sort through resumes, interview potential candidates and bring on new, young staff. After all, these will be the employees who fill their flip-flops, um, shoes in a few years.