The University of Mississippi Medical Center is adding another tool to its concussion testing protocol. The Computerized Dynamic Posturography device has been commonly used to evaluate balance issues, but only recently has been found to be effective in detecting lingering signs of concussion, which can cause impaired balance. The test is especially useful in diagnosis of athletes who exhibit or claim to exhibit no symptoms.
"This test will not only help determine if a concussion has occurred, but it can also ... help answer the vital question: When is it safe for the athlete to play again?" says Dr. William Mustain, Ph.D. audiologist and the director of UMMC's Vestibular Laboratory.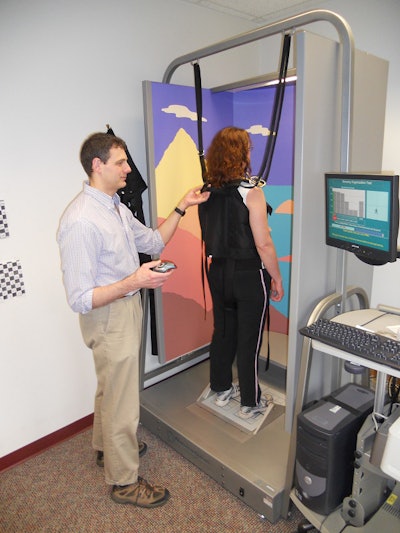 Patients are asked to stand on a platform inside the device and maintain their balance both with open and closed eyes as the platform moves or remains stable. A harness protects patients from falling when they lose their balance.
Baseline testing with the device before any injury has occurred is still recommended, says Mustain, to establish a patient's normal level of balance. While later tests can be compared to a range of what is considered normal balance, athletes in particular often have a more refined sense of balance.
The technology has been around since the 1980s and has been gaining in popularity as a concussion-testing tool in the last decade. The NCAA has endorsed its use, but it was only after the manufacturer of the CDP devices began circulating news of its potential in concussion evaluation that Mustain began researching its use and developing a plan for its use.