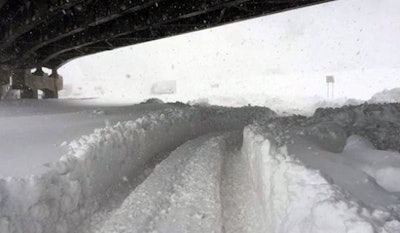 A rough night on the court turned into an even rougher 26 hours for the Niagara University women's basketball team.
The story begins Monday night when the Purple Eagles left Pittsburgh around 10 p.m. after losing to Pitt. What should have been about a four-hour bus ride back to Niagara's campus just north of Buffalo, New York turned into a nightmare thanks to the massive snowstorm that crippled the Great Lakes region this week. According to NBC News, the storm has dumped about five feet of snow near Buffalo and has been blamed for five deaths.
Around 2 a.m. on Tuesday, just about 30 miles from campus, Niagara's bus became stuck in the snow on the New York State Thruway. A minor delay turned into a few hours. A few hours turned into a few more hours. And a few more hours eventually became 26 hours stranded on the bus.
Tweets from players on the team tell the story.
. @wgrzMichael pic.twitter.com/cBEjtrOkjF

— Rene'e Polka (@rpolka24) November 18, 2014
Going on 18 hrs #NUWBBstrandedonbus pic.twitter.com/5JXS8DOSyv

— Focused. (@sylvoslice24) November 18, 2014
#NUWBBstrandedonbus pic.twitter.com/CM6KymscKZ

— #Grind2Shine (@_TC3__) November 18, 2014
Thank you god !!! pic.twitter.com/CdBx93ooLx

— #Grind2Shine (@_TC3__) November 19, 2014
Eventually, state troopers picked up the team and brought them to a nearby police station where another bus was waiting to take them back to campus, ESPN reports.
"We have snacks, some granola bars and pretzels," Niagara coach Kendra Faustin told The Associated Press in a phone interview prior to being picked up. "We found six bottles of water and have been rationing it. We thought we'd be here for a couple hours and a couple of hours turned into 12 hours. It's now 24 hours."

Before the supplies arrived, the team actually turned some of the snow into water. Faustin described snow drifts higher than 6 feet that covered cars. Other motorists had come aboard the team's bus seeking shelter and bonded with the team.
"It started to get bad fast at about 2 a.m. [Tuesday], and we came to a dead stop and haven't moved since," Faustin said. "It was a rough weekend for us on the court and it just won't end."

Eventually it did and Faustin said the team was in good spirits and looking forward to catching up on some sleep.

RELATED: Recent Team Bus Crashes Focus Attention on Seatbelts