Life-changing events can happen at any time, and when you least expect it. It's common for events early in your personal life to shape you — I won a young author's contest and a big race in elementary school, which ultimately lead to me becoming a writer and runner. But to have it happen on a professional level, nearly 20 years into your career no less, is fairly uncommon. But that's exactly what happened when I attended the 2013 NCS4 Conference in Orlando just two weeks into my tenure at Athletic Business. To say the conference had a profound impact on me would be an understatement. The reality is this — Gameday Security™ exists because of that NCS4 Conference.
The theme was the Boston Marathon bombings and the impact that event had on all aspects of sports security and safety across all levels. Now Boston police commissioner William Evans delivered the most powerful keynote address I have witnessed as he described the intimate details of the horrific day, as well as the manhunt that followed for "white hat and black hat." Looking around that room, I couldn't help but note that everyone there was doing something to help protect the sports we love and the people we love… everyone but me. Leaving Orlando armed with exceptional content (and a few Disney souvenirs for the kids), I knew it was my turn to have some skin in the game, so to speak.
The first step was incorporating a monthly security feature into Athletic Business. A good start, but I felt we could do more. So we launched an annual supplement called Sports Venue Safety and watched all copies quickly disappear at the 2014 NCS4 Conference, which told me everything I needed to know — this audience was hungry for more. A quick look around the media industry revealed one major flaw: there wasn't one magazine out there that focused exclusively on sports security on the professional, collegiate and high school levels, nor one that covered municipal recreation or endurance events, too. The opportunity was there, but we needed more direction on how to best bring it to market. Enter Lou Marciani.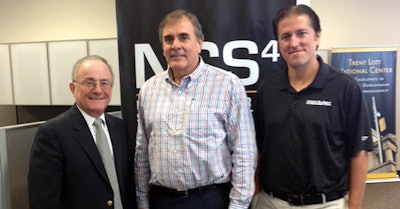 At the 2014 NCS4 Conference, I met with NCS4's inspirational leader to discuss ways we could work together. Lou could see I shared his passion for sports security education and wanted to give the industry something it sorely needed, a resource to keep them up to date on the latest sports security trends and technology. After many calls, emails and a great meeting at NCS4 headquarters at the University of Southern Mississippi, Gameday Security, the official magazine of NCS4, was born. The first issue will launch this winter, and will take an in-depth look at unmanned aerial systems, video surveillance, and crowd management issues including evacuations and fan violence. And perhaps most important, every issue will put a spotlight on the technology that is redefining sports security in America.
RELATED: Inside the 2014 NCS4 Conference
So today, the sports security community has a proud new member. I recognize my role in this process may be minor, but it's a role I take very seriously. I am passionately committed to making a difference in this area, and I am very excited about what Gameday Security will mean to this industry. This is not my magazine, it's yours. As such, it's critical that you have a voice in it. Please email me any time at dennis@athleticbusiness.com or comment on our articles as we build this together. The fight to protect our venues, events, athletes, staff and spectators is an important fight, but it's one that we most certainly can win, together. Welcome to Gameday Security.