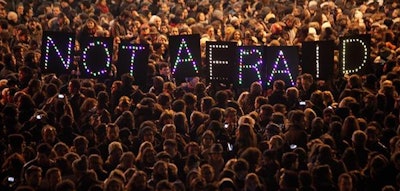 The slaughter of more than a dozen people by masked gunmen at the Paris offices of satirical magazine Charlie Hebdo has provided a sickening reminder of the evil that lurks around every corner. There are still a lot of unknowns but what we do know is this: eight of the dead are journalists, two were police, one was a guest of the editorial board, and one was at the reception desk. The humanist in me mourns for the victims and their families. The journalist in me mourns for my media peers. But in this industry, that sadness must be repurposed in a focused direction. Paris is a reminder that this type of terrorist attack can happen anytime, and anywhere. It's why our mission to protect the sports we love, the fans we love, the athletes we love and the staff we love, is so important. 
An argument can be made that Charlie Hebdo fueled the fire with its content, much of which mocked religious extremism, particularly Muslim extremism. In 2011, their offices were even firebombed for publishing a caricature of the prophet Mohammed. I have to admit, I was not familiar with the magazine prior to the terrorist events, but I was very familiar with a previous high-profile terrorist target: the Boston Marathon. Coincidentally, the terrorist attack in Paris coincides with the trial of Boston Marathon bombing suspect Dzhokhar Tsarnaev set to begin.
Boston and Paris fuel our fire, as an industry, to be the proactive security leaders we need to be to meet and defeat these threats. The mindset of doing something only after something has happened must become a thing of the past. The time to invest in security across all levels must be now. Evil isn't exclusive to one type of sport or event. It can happen at a high school soccer game, a community 5k, a college intramural basketball game or the Super Bowl.
I look at my 8- and 6-year-old daughters and I think about what the future holds for them. I'm nervous, but I'm a parent and that's part of my job, to worry about my kids. But I'm also confident, because I know how many people and organizations are passionately committed to protecting them. Protecting their future starts with protecting their present. That's why organizations like NCS4 exist, and it's why Gameday Security exists. 
Please help me in this mission. If you are interested in contributing to Gameday Security, please contact me at dennis@athleticbusiness.com.