Shane McMahon wanted to finish off his "Hell in a Cell" match with The Undertaker in style. With The Undertaker lying on the announcers' table outside the steel-caged ring, McMahon climbed all the way to the top of the 20-foot cage and stood there, with 101,763 pairs of eyes on him eagerly waiting his next move. After several anxious moments, McMahon finally flew down to The Undertaker — and missed, crashing through the table. McMahon eventually lost the match and was carted out of the ring.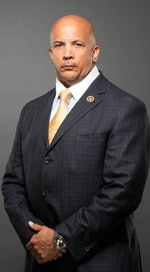 The 20-foot drop may have been the singular moment of WWE's WrestleMania 32 this past April at AT&T Stadium in Arlington, Texas. The announced attendance set a WrestleMania record, breaking the 29-year-old mark by more than 8,500. WrestleMania 32, which attracted fans from all 50 states and 35 countries, also became the highest-grossing live event in WWE history at $17.3 million, almost $5 million more than was grossed at WrestleMania 31 last year.
Naturally, an event such as this demands security efforts that rival some of the biggest sporting events in the world. WWE director of security Jim Kelly discussed those security efforts for WrestleMania 32 with Gameday Security.
What separated WrestleMania 32 from other WWE events from a security standpoint?

One of the biggest differences we face during WrestleMania is bringing together all of the different law enforcement agencies and security personnel. The key to making this work is constant communication. Regular communication with AT&T Stadium security personnel detailing our needs, concerns, arrival schedules, as well as any other logistical issues that may arise is critical. They acted as our liaison with all agencies in the Arlington area. We also had direct contact with members of the FBI and the Dallas Police Department for events in the downtown area, which consisted of working with security personnel from the American Airlines Center, the Dallas Convention Center and several hotels that were used to host WWE.
Top 10 Attendance Records at WrestleMania
1. 101,763: WrestleMania 32, AT&T Stadium, Arlington, Texas, April 3, 2016
2. 93,173: WrestleMania 3, Pontiac Silverdome, Pontiac, Mich., March 29, 1987
3. 80,676: WrestleMania 29, MetLife Stadium, East Rutherford, N.J., April 7, 2013
4. 80,103: WrestleMania 23, Ford Field, Detroit, April 1, 2007
5. 78,363: WrestleMania 28, Sun Life Stadium, Miami, April 1, 2012
6. 76,976: WrestleMania 31, Levi's Stadium, Santa Clara, Calif., March 29, 2015
7. 75,167: WrestleMania 30, Mercedes-Benz Superdome, New Orleans, April 6, 2014
8. 74,635: WrestleMania 24, Citrus Bowl, Orlando, Fla., March 30, 2008
9. 72,744: WrestleMania 25, Reliant Stadium, Houston, April 5, 2009
10. 72,219: WrestleMania 26, University of Phoenix Stadium, Glendale, Ariz., March 28, 2010
Source: WWE
What types of law enforcement and other security personnel worked the event?

The collaboration with multiple law enforcement agencies was an essential part of ensuring a safe environment for our fans, talent and staff. We received resources from the Arlington and Dallas police and fire departments, the Department of Homeland Security, the FBI, Secret Service, AT&T Stadium, Andy Frain Services and G4S security personnel.
Did you consult with other major events or organizations in planning for WrestleMania?

Throughout my career, I have had the pleasure of meeting retired law enforcement personnel and security professionals from all over the world. Many of them are in charge of security for each of their respective leagues, teams or entertainment properties. I attend conferences, share information and when possible attend major sport and entertainment events so I can see security measures that they have in place.
What does planning for such an event entail?

WrestleMania is WWE's biggest event of the year. A site survey for each WrestleMania typically begins approximately one year out. In some cases, meetings are held for the next year's event before this year's event even takes place. Initial contact with the stadium director of security starts approximately one year prior to the event and continues during the course of the year. In the final months leading up to the event, we meet frequently to finalize preparations.
How many of your staff worked the event?

We had 10 security personnel from WWE to work the weeklong series of events. With so much going on in the Dallas-Arlington area, each member of the security team played a pivotal role in overseeing security for each event, from WrestleMania Axxess, to hundreds of talent appearances, to the Hall of Fame induction ceremony, to our NXT event and culminating with WrestleMania 32.
Were there a lot of late nights for your security staff?

WWE security staff work around the clock in shifts to cover all events. The night prior to WrestleMania, members of my staff did not leave the stadium until 3:30 a.m. On show day, members arrived at 8 a.m., with the last leaving the stadium well past midnight.
Looking back, what are your thoughts on the event's overall success?

I work with an amazing group of law enforcement and military personnel. Each one brings a unique perspective to the security field. It was an honor for us to work alongside law enforcement and security agencies to make WrestleMania 32 an enjoyable, safe event for everyone in attendance.
---
This article originally appeared in the Summer 2016 issue of Gameday Security with the title "Taming WrestleMania's record crowd."