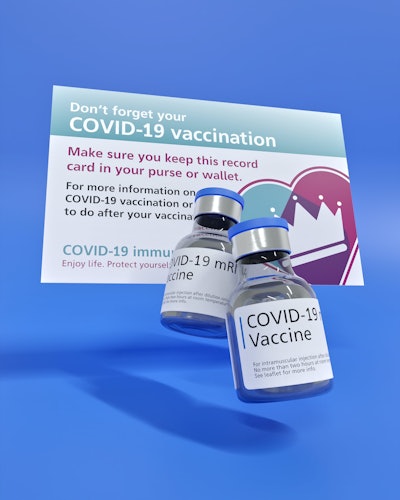 Amid surging COVID-19 case numbers, college athletic departments across the country this week tightened their spectator entry protocols, and the early reviews of the process from two locations are positive.
Michigan State, one of several Big Ten Conference members to announce it was requiring proof of vaccination or a negative COVID-19 test prior to entry, hosted Nebraska on Wednesday night, and the thousands of fans who arrived at the Breslin Center had to present a physical or digital copy of their vaccination card along with a photo ID or, if not vaccinated, their photo ID with a photo or printout of their negative COVID test taken within the previous 72 hours.
The enhanced screening measures made some fans think entry would be more arduous than it actually was.
"We actually got here very early just to make up for the long lines and there was no lines at all," said MSU fan, Tom Hobin, as reported by CBS affiliate WLNS in Lansing.
Stephanie Davis told the station that things went just as easily for her. "It was really quick, surprisingly," Davis said. "I thought the line would be longer, but they handled it really well."
Earlier, University of New Mexico athletic officials tested the school's updated vaccine mandate during a women's basketball game Monday night at The Pit.
An athletics department spokesperson told CBS/Fox affiliate KRQE in Albuquerque that 42 people took a test at the arena while everyone else was under 12 or had their vaccination card or negative test documents at the ready. The UNM mandate will remain in place for all events at The Pit at least through the end of the month, when it will be reassessed.
Michigan State plans to keep is protocols, including mask wearing in all indoor spaces, in place through the winter sports season, according to an Associated Press report earlier this week.
Related: Big Ten Schools Update Game Attendance Protocols
The only negative to come from Wednesday night's MSU game was a hint that protocol fatigue could be an issue for some. Tery Usiak told WLNS, "Some of my friends have mentioned that they may not be renewing their season tickets if it continues."