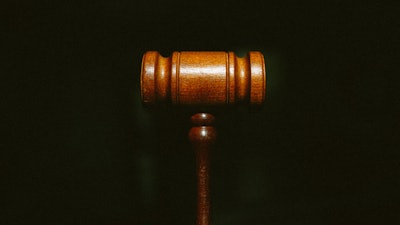 A high school guidance counselor in California was arrested Tuesday morning on suspicion of sending threatening messages, allegedly including racist and homophobic language, to his child's coaches at another high school.
KCRA-TV reported that Todd Andrew Tyler, 53, of Browns Valley, was arrested on charges of making criminal threats, hate speech involving threats and carrying a concealed gun in his car, the Marysville (Calif.) Police Department said.
Officers searched Tyler's vehicle and found a .45 caliber handgun with two loaded ammunition magazines in the center console, the Sacramento Bee reported.
Tyler reportedly left several voicemails for two coaches of the Marysville High School varsity softball team. He seemed to be upset with the coaches about his child's position in a game, police said.
"It's just so sad. It's really sad," said Maurice Clavelle, one of the coaches who received the voicemails.
He said he received nearly 20 phone calls and about 10 voicemails in which Tyler made threats, using lots of profanities and even a racial slur at one point.
"We were at a loss for words, like, is this real? This is coming out of his mouth?" said Maurice's wife, Michelle Clavelle.
In a portion of one voicemail that Clavelle shared with KCRA-TV, a voice is heard saying, "So, just understand, I'm comin' to get ya. I look forward to it, look forward to splittin' your face in half, look forward to proving what a loser you are, and I said it on the phone. I'm gonna have fun with you, Mo. I'm gonna track you down."
Tyler is a counselor at Yuba City High School, according to the school's website.
The Yuba City Unified School District said Tyler is on administrative leave pending the outcome of law enforcement and internal investigations.
In a statement, the district called the allegations against Tyler "reprehensible and deeply troubling."
"They are entirely at odds with who we are as a school district and as educators," the statement said. "Any action that calls into question the fitness of an employee to guide our students is something we take very seriously. We have taken immediate steps to ensure the safety of our school and students while the matter is investigated."
Tyler is being held in the Yuba County jail on $150,000 bail pending future court proceedings, police said.