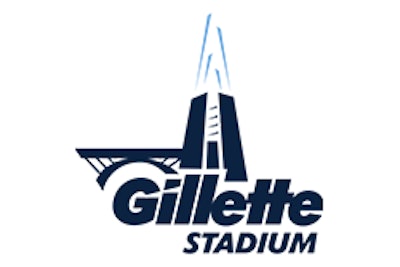 Officials investigating the death of a New England Patriots fan who died during Sunday night's game at Gillette Stadium say preliminary autopsy results do not suggest the man suffered a traumatic injury.
Dale Mooney, 53, of Newmarket, N.H., died following an incident in the 300-tier section of the stadium in Foxboro, Mass.
The Norfolk County District Attorney's Office said police and fire personnel responded to the section where Mooney was in apparent need of medical attention at approximately 10:57 p.m. First responders performed CPR on Mooney at the stadium, before he was transported to the Sturdy Memorial Hospital in Attleboro, where he was pronounced dead.
"Preliminary autopsy results did not suggest traumatic injury, but did identify a medical issue," according to a statement Wednesday from the DA's Office, as reported by NBC News. "Cause and manner of death remain undetermined pending further testing."
The DA's statement did not elaborate on the "medical issue" Mooney was enduring at the time of his death.
No one has been arrested or charged in connection with Sunday's incident.
"We're still reviewing all of the video and other evidence," DA spokesperson David Traub said, as reported by NBC News. "We're still piecing this together, all of the events."
"Our investigation remains open and ongoing. Any eye witness who has not already been interviewed by police, or anyone in possession of original video of the incident, is asked to contact the State Police Detective Unit – Norfolk DA's Office at 781-830-4990," the DA's office said, according to Boston ABC affiliate WCVB.
At least one witness said Mooney was punched in the head by a fan of the rival Miami Dolphins during a violent confrontation toward the end of the game's fourth quarter.
"He basically grabbed another fan," Joseph Kilmartin said, as reported by WCVB. "They started tussling around for a few minutes. At one point, another fan walked over. He punched him ... and the man just went out. It was pretty hard to watch."
Related: Witness: Fan Who Died at Gillette Stadium Was Punched In the Head
Mooney's wife Lisa said Dale had no medical condition that she knew about. "It takes a lot to get him mad," Lisa Mooney said as reported by WCVB. "He has the patience of a saint. I don't know what happened."
"I just don't understand why people have to go to that extreme," she said. "Why can't it just be fun? That's all it's supposed to be, a fun family event."
"We are heartbroken to learn of the tragic passing of Dale Mooney, a lifelong Patriots fan and 30-year season ticket member, who died while attending last Sunday night's Patriots game," read a written statement released by Gillette Stadium officials on Tuesday afternoon.
"We continue to work with local authorities to assist them with their ongoing investigation. We extend our sincerest sympathies and heartfelt condolences to Dale's family and to all those who are mourning his loss."