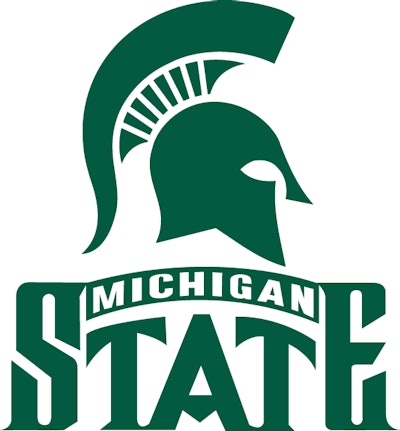 The Michigan State University Department of Police and Public Safety will increase its officer presence on campus to support the influx of fans expected for Saturday evening's football game against rival Michigan.
As reported by The State News student newspaper, MSUDPPS spokesperson Dana Whyte said police and public safety staff are expected to arrive on campus in the morning to be ready when tailgating lots open at 11 a.m. Whyte added officers from the surrounding area, as well as Michigan State Police, will be there to bolster the police presence. Kickoff is at 7:30 p.m. ET.
"We do expect to see a lot more people on campus this weekend than we do for a typical game, just with the nature of it being MSU versus Michigan," Whyte said. "The majority of our department will be working."
"While contests between the Spartans and the Wolverines have always been fodder for the deep-seated rivalry between the two schools, last year's game and the ensuing fight hat broke out in the Michigan stadium tunnel proved a particularly violent instance of the rivalry's ability to flare tensions," wrote Emilio Perez Ibarguen of The State News. "MSUDPPS will take extra precaution to prevent another incident."
Related: What's Next Following the Michigan Stadium Tunnel Assault?
News breaking Thursday that Michigan is under investigation for cheating may add another layer of uncertainty in terms of player and fan behavior at Spartan Stadium.
Related: Michigan Football Under Investigation for In-Person Scouting, Sign-Stealing
Whyte said officers and security will be assigned throughout the stadium and near the tunnels where both teams will enter and exit the field. Whyte also said the teams' use of the tunnel will be staggered to avoid opposing players being in the tunnel at the same time.
In a statement to The State News, associate athletic director/communications Matthew Larson wrote, "Michigan State Athletics will continue to enforce its safety protocols for Saturday's game against Michigan while bolstering those measures with additional security and personnel."
Additionally, with a start time of 7:30 p.m. and alcohol now being sold inside Spartan Stadium, some people have expressed concerns about an increased potential for rowdiness. This topic has been widely discussed by fans online leading up to the rematch, and Detroit-area radio host Mike Valenti drew controversy in July for warning Wolverine fans of an ultra-violent atmosphere at Spartan Stadium, saying there are "decent odds you'll be eating a battery," Perez Ibarguen reported.
Whyte said alcohol-related incidents have remained relatively stable in the two home games this season where alcohol has been sold in the stadium. She added the late start time can also be a benefit to fans looking to drink at a slower pace.
"We think that helps a little bit because people are able to stagger their drinking times a little more, rather than just drinking before the game," Whyte said. "We hope that helps people plan their day a bit better and know their options when they're going into the stadium."
In an email to the student body on Wednesday, MSU Student Life and Engagement shared guidelines and safety measures for students to keep in mind this weekend. The statement told students to be mindful of their noise level, party size and clean-up. It also mentioned MSU's medical amnesty policy and said to have a designated sober driver.
The email also encouraged students attending the game to be respectful.
"Let's leave the rivalry on the field," the MSU-Michigan joint statement said. "Be a respectful fan and cheer for your team, not against the other. Avoid the use of foul language, obscene gestures or messages, and threats."