"Not your typical metal-building ice sheet," was one judge's understated assessment of the Stouffville Clippers Sports Complex in Stouffville, Ont. Both the facility's layout - with unconventionally staggered ice sheets allowing for the insertion of a light-infused lobby at the building's public corner - and its creative use of a custom metal structure resonated with the judging panel. So did the use of expansive interior glazed walls that allow views from the lobby into both rinks, creating a more engaging experience for spectators.
Expressed as a simple box clad in a continuous belt of corrugated metal siding atop a masonry base, the design is distinguished by its finely tuned fenestration. Punctuated by a dramatic pattern of diffuse slot windows around the rink's perimeter and a double-height screen of clear glazing with aluminum mesh interlayer at the lobby entrance, the building responds to the needs for daylighting and glare control. Designed for maximum flexibility, the design incorporated many systems and features that expand the functionality of the arena as a venue for multiple sports and large tournaments. One example is the multiuse rooms, expressed as simple glass boxes overlooking the rink spaces, which double as box seating areas.
It all added up to an award-worthy facility, the judges said. In the words of one panelist, "The exterior and interior detailing of this complex successfully avoids the mundane box-like structures of many rink facilities." Another summed up the panel's deliberations: "This project is a great example of how careful consideration and fine detailing can transform a simple box into a dynamic civic facility."
Judges' Comments:
The design is very successful in its off-ice approach to elevating the experience of spectators and participants.
- Mark Williams, HKS Inc.
Wow, what an elegant exterior skin of simple materials - and inside, the lighting and daylighting makes you feel like you're outside.
- John Dierdorf, Browning Day Mullins Dierdorf Architects
The simple clarity of this big box ice rink complex was punctuated with touches of color and carefully diffused natural light. The offset plan of the two ice sheets opens up a large and logically situated entry lobby to the parking, welcoming users and providing a generous pre-functions area for spectators.
- Mark Bodien, Moody•Nolan Inc.
Architect of Record: Perkins+WillToronto, Ont.
Cost: $14 million (Canadian) Square Feet: 76,534Funded By: Municipal fundsMajor Facility Components: Two ice sheets, main lobby, players' lobby, change rooms, spectator seating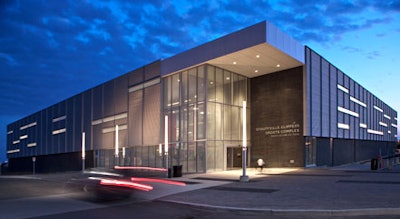 Photo by Lisa Logan Photography
Click here for the full photo gallery
The 2011 Athletic Business® Facility of Merit™ awards were recently selected by a panel of sports and recreation facility architects during two days of judging in Chicago. The 10 winners are being announced in this space during the first two weeks in October, and profiles of all 10 will appear in the December issue of Athletic Business. The awards will be presented to the facility owners and architects at the Athletic Business Conference & Expo in Orlando, Fla., on Friday, Dec. 2.