Group cycling has been the hot topic in group exercise for the past few years, its growth fueled by a celebrity following, a plethora of class formats and continually improving technology that allows for better tracking and more engaging audio/visual elements. But when the American College of Sports Medicine released its list of top 20 fitness trends for 2014, group cycling was nowhere to be found, suggesting to many that it was a fading craze. Meanwhile, whispers of a competitor have been growing from out of the shadows of the cardio floor. The rowing machine, a tried-and-true — if somewhat neglected — staple is being hailed by some as the successor to group cycling.
Is a rowing revolution upon us? "Rowing will never be group cycling, but it is gaining its place with more hard-core fitness enthusiasts," observes one fitness industry veteran, who asked to remain anonymous. "The CrossFit culture has attracted the hard-core, but the masses still need a more traditional experience."
New cardio equipment is no light expense for most fitness clubs, let alone a room full of the same piece of equipment. To be sure, fitness facility owners needn't run out and invest in a fleet of rowers, but nor should they continue to assume their current mix of cardio equipment is adequate to meet their members' expectations. "Year after year, in January and February, we look at which pieces of equipment are being most used," says Scott Lewandowski, vice president of fitness for Fitness Formula Club, which has locations throughout the Chicago area. "Treadmills will always be the top piece of equipment, StepMills will grow in popularity, and rowing machine use is growing, but it's not growing at the rate that we would dedicate studio space or a whole row of cardio to it. Over the past 10 years, we were a club that had two in every location. We could probably get away with three or four, and in some places, we will add those."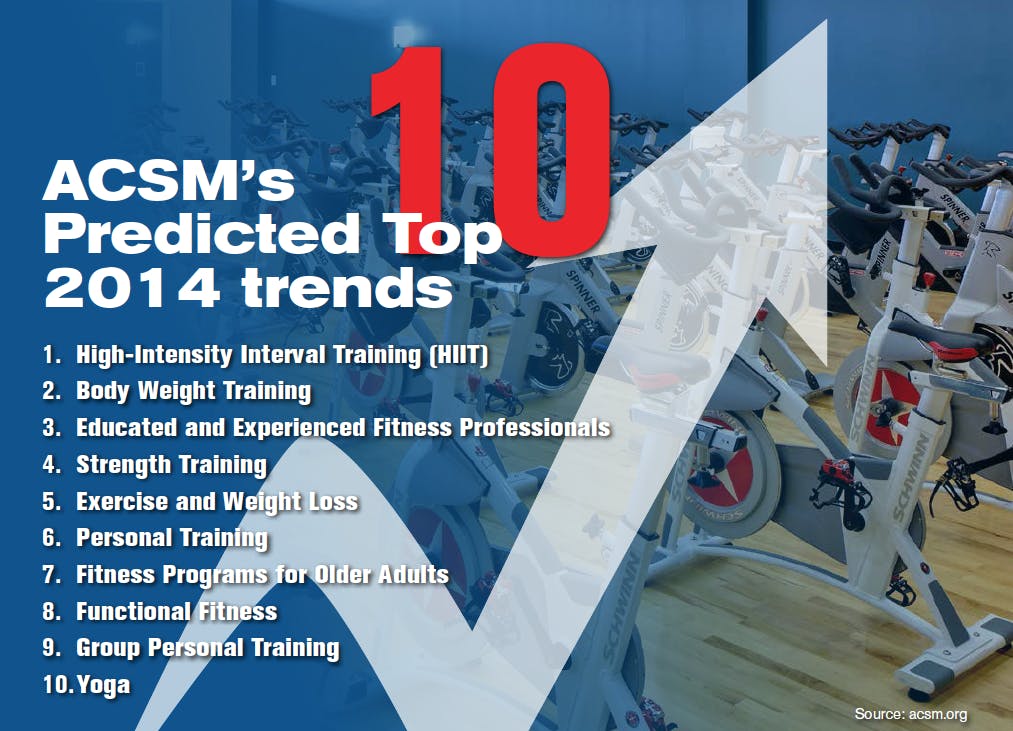 RISING TIDE
Though still in its infancy in the Midwest, rowing has a stronger following on the East Coast, where rowing studios are popping up and rowing-based group exercise classes are finding their way onto health clubs' schedules. The trend is driven in part by a change in workout expectations. While traditional cardio workouts will always have their followers — members who come in and grab an elliptical, bike or treadmill, pop in their ear buds and zone out for an hour — more fitness enthusiasts are looking for new ways to get the most from their workouts, and rowing is certainly one way to do that, offering an intense full-body workout.
"We may not be the one piece of equipment that got a lot of space, but that was due to lack of education," says Tracy Desrocher of Vermont-based rowing machine manufacturer Concept2. "It's not a piece of equipment that you would approach and know how to do right off the bat really well. Education is vital."
Increased education and awareness can be attributed in part to the popularity of functional training in general and CrossFit in particular. "Rowing equipment and total-body bikes are being incorporated into functional training zones as interval stations," says the aforementioned fitness industry veteran. "Circuit training is no longer just selectorized strength stations but rather incorporating functional stations that are both strength and cardio."
As such, people who might never be tempted to set foot on the cardio floor are gaining familiarity with equipment and seeking it out. "The rowing machines are so popular in CrossFit programming that that's where I'm seeing the need to add a third and a fourth," says Lewandowski. "We're getting those people coming from the studio that are comfortable using it."
Though proper rowing form is not as innate as riding a bike, as awareness continues to build, so will demand. "The Park District of Chicago just built a new indoor rowing facility," Lewandowski says. "It has an indoor infinity pool where you can do crew rowing. That might end up leading to us doing more."
It's not just the hard-core fitness enthusiasts using the machines, either, adds Desrocher. "Baby boomers are really becoming a bigger population. Maybe they've been runners and can't run anymore. Rowing is a very comparable exercise to running."
While most fitness club owners might still laugh at the idea of investing in a fleet of rowers or clearing a space on the group exercise schedule for group rowing, many do feel comfortable adding a few more to the cardio floor. "We're seeing more places putting in areas of 6 to 12 rowers that people can use in groups, but not formal class setups," says the industry veteran.
Part of the appeal for clubs is the price — basic models can be purchased for less than $1,000 and don't require the high-tech audio/visual setup of a group cycling class. Moreover, the machines don't necessarily require a dedicated space commitment, says Desrocher. "They don't need electricity. An indoor rower is a small piece of equipment that can be easily transported, and it takes a lot to break them."
SPIN CYCLE
The growing popularity of rowing doesn't spell doom for the group cycling studio. "Group cycling seems to be stable and strong, contrary to the American College of Sports Medicine rankings for 2014," the industry veteran says. "Part of that trend is the introduction of technology in both video and computer tracking of workout data."
From higher-end studios with bigger and better video and audio enhancements to stretching the definition of what constitutes a "stationary" bike, when it comes to technology, group cycling still has plenty of room to grow and more to offer to its participants. With so many class format variations available and more to come, it will likely be a while before group cycling classes reach the end of their life cycle.
"I see a shift to more classes teaching power," predicts Lewandowski of group cycling this year. "We're going to start seeing more CompuTrainer-type classes focusing on different tracking solutions that will help with tracking power, performance IQ — turning your spin bike into something more."
---
TECH RACE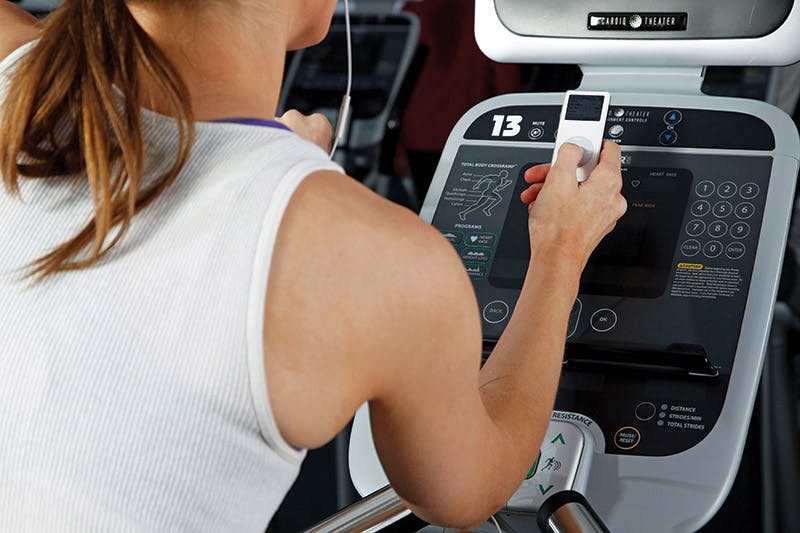 Photo by David StlukaFor any fitness facility, keeping up on the latest workout trends is pointless if it isn't also keeping up on the latest technology. Says Chicago-area club vice president Scott Lewandowski, when personalized viewing screens became available in 2005, they were a must-have. "Regardless of what age your equipment was, you had to get with the times," he says. "So we got new cardio equipment with personalized viewing screens."
Today's technology is leaps and bounds beyond basic personalized viewing screens. Users expect fitness equipment to track a growing list of metrics, and they expect to be able to conveniently access that data wherever they go, regardless of what company made the equipment they're using. "What I'm looking at right now is the cloud programming and tracking programming that's available," says Lewandowski, listing programs such as Precor's Preva, Life Fitness's LFConnect and Technogym's mywellness cloud. "Every company has its own proprietary tracking tool, but now it seems like these companies are working toward open platforms. All of our users are using WebMD, Myfitnesspal, five or six different tracking apps on their phone. If I've been using something that works for me, why would I switch over?"
---
This article originally appeared in the February 2014 issue of Athletic Business under the headline, "Pulse Check."