From locker rooms to treadmills and everywhere in between, keeping a health club clean is difficult. Cleanliness is not only important for keeping your facility looking and smelling clean, but also for attracting and retaining members. In fact, according to IHRSA's "Guide to Health Club Cleanliness", fifty-six percent of gym club members expect their gyms to be germ-free. The report also finds a direct correlation between a club's performance and the percentage of the club's total revenue that is dedicated to cleanliness. The more a club focuses on being clean, the better its growth, member retention, and overall profitability.
As the New Year takes hold and more people decide to finally act on their resolutions, one of the top points of scrutiny a club's cleanliness. It doesn't require an arduous session of research to find the "shocking truth" articles and news clips about MRSA and other diseases lurking in gyms. Potential gym members are looking for a place that best facilitates a healthy new lifestyle, not MRSA.
Unfortunately, members will come in with muddy shoes, dirty hands and, although not pleasant to think about, they're bound to pick their noses and fail to wash their hands after using the bathroom. In fact, just 5% of people properly wash their hands after using the bathroom, according to a study from Michigan State University.
While keeping a germ-free looking facility is a top priority at almost all successful clubs, they often fail to ensure actual cleanliness. Usually patrons and staff members will clean the most visible of areas such as treadmill handrails, bike seats, and bench pads. The average gym-goer doesn't include a Staphylococcus aureus testing kit in their gym bag, so what's the difference as long as a club is perceived to be clean?
While those spots may check out as clean, germs that pose threats of everything from the common cold to MRSA and staph infections - even ringworm - may be lurking right under fitness center staff members' noses. Recently, an LA Fitness franchise in Illinois made national news when two members contracted Legionnaires' disease from the gym's hot tub.
"From a gym management standpoint, it's important to make sure you are thoroughly cleaning and killing germs, not just making your facility look clean," says Sean Kajcienski, chief sales officer for Coverall Health-Based Cleaning System. "Great germ killing requires military-like consistency and cleaning protocols. People typically think something is clean because it looks and smells clean. It's what you can't see that is dangerous. The health of every fitness facility depends on it."
RELATED: Properly Cleaning and Disinfecting Fitness Equipment
Dr. Scott Weiss, a board-certified athletic trainer and licensed physical therapist agrees that it takes more than just eyeballing the gym or doing a white-glove test to check the real cleanliness of the fitness center.
"A fitness center can look clean and smell clean but not really be clean, and you can't tell just by looking as you walk through the facility," says Weiss.
Weiss uses a germ meter to ensure the cleanliness of his facility, using standards picked up from time working with the United States Olympic Committee as part of its sports medical team.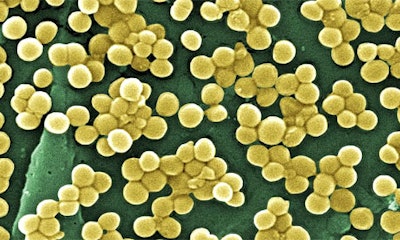 Coverall has also utilized testing to find out the true cleanliness of facilities and other items. A device called the adenosine triphosphate meter detects biological contaminants. Commonly used by food industry inspectors, it's great for measuring degrees of contamination in fitness centers and gyms, says Kajcienski. "Anything over a level of 100 is considered dangerous; Coverall has measured cell phones and other public high-touch surfaces with levels exceeding 4,000."
The broad offerings found in a multi-sport facility only multiply the risk and the number of places staff members need to keep clean.
A recent study by the University of California, Irvine demonstrated that basketballs and volleyballs can spread potentially dangerous germs among the players and staff who handle the balls.
"The overwhelming prevalence of staph aureus we encountered supports our understanding of the gym environment as a reservoir for germs," says Joshua A. Cotter, a postdoctoral fellow in orthopedic surgery, who helped supervise the study. "Institutions, coaches and athletes should take note of the role the sports ball can play as a vehicle for the transmission of potentially life-threatening germs."
RELATED: A Clean Facility Means Good Hygiene, Orderliness and Functioning Equipment
But even on the fitness floor, germs are probably lurking in places that rarely, if ever, get cleaned and sanitized.
"With so many people now using some of the newer functional equipment, there are even more places to pick-up germs, many of which aren't cleaned as frequently as machines and other equipment," says Weiss. "Things like stability balls and foam rollers carry so much bacteria and they hardly ever get cleaned."
A fitness center can use all the best, hospital-grade cleaners and leave sanitizer dispensers around the club, but without vigilant work from management and staff members, those products can go to waste.
"All you need to do is let the staff know that they spend more time there than anyone, and, if they don't clean their 'house', they are going to bring anything going around the home," says Weiss.
Five ways to keep the fitness center clean:
1. Utilize hospital-grade cleaners containing 10 percent bleach or a full-spectrum cleaner.
2. Use high-filtration vacuums (which remove dead germs and dirt), and microfiber cloths (which remove 99 percent of dirt and germs).
3. Make sure the cleaning staff is briefed on hotspots - including door handles, jump-rope handles, stability balls, and stretching mats.
4. Make hand sanitizers accessible, but also promote the proper techniques to wash hands.
5. Regularly conduct thorough water testing for any pool or spa.
RELATED: Fitness Pros Take a Closer Look at Locker Room Cleanliness
John Agoglia has spent nearly two decades either working in health clubs or writing about them. He currently writes for several digital and print publications in and out of the fitness industry.