While cardio and strength equipment remain at the core of any club or rec center's fitness offerings, members increasingly want to supplement their time on the treadmill with high-intensity group programming.
"Clubs are hungry to open new revenue streams to attract and retain members who are going elsewhere to participate in group training classes," says Erica Tillinghast, global education manager for equipment manufacturer Precor. "As the demand for authentic, experience-driven group training workouts increases, many operators are seeking ways to offer complementary services within their own four walls."
For many fitness clubs and rec centers, this shift represents both an opportunity and a challenge, as group classes require dedicated space and a steady stream of programming that gets members results and keeps them engaged.
Equipment manufacturers have taken notice of this trend and are now offering end-to-end solutions to help ease the transition to these new types of programming, including consulting on how to make the best use of available space, as well as providing turnkey programming that has a boutique feel without the time-intensive planning. Here's a look at how a fitness club chain and a YMCA managed to meet their members' needs with a little help from their equipment provider.
Building like the boutiques
Robert Gerke is director of operations for 10 Fitness, a chain of high-volume, low-cost fitness clubs in and around Little Rock, Ark. Gerke is currently overseeing construction of a new facility — the first of the company's 13 locations to be built from scratch.
"In the past, so many of our locations have had to adapt over time. We've had to do remodeling projects, demolition of stuff and rebuilding new walls and things like that," he says. "This is the first one that we've built from the ground up, completely designed with our ideal gym model in mind."
---
RELATED: PRODUCT SPOTLIGHT 2020: Cardio Equipment
---
Opening those first 12 stores has meant a wealth of lessons learned for Gerke and his team, not the least of which is that every square foot of a facility needs to serve members' needs, while also ensuring that it's all tied to revenue. To that end, 10 Fitness' model has changed drastically since the company's launch in 2007, when the clubs offered basic free weights and no group exercise options.
Today, 10 Fitness offers tiered membership that includes a Basic membership, which allows access to the gym. A Premium membership includes access to some group exercise, an area that has heavier free weights, tanning beds and massage chairs, as well as the option to bring a guest. "But it's hard to tie dedicated revenue back to any of those things," Gerke says, noting that the company has come up with a third option, the Level 10 membership, which is the moniker under which 10 Fitness has white labeled Matrix's MX4 programming solution. The offering revolves around Matrix's Connexus frame, a hub that has among other features a slam ball wall, a pull-up bar, and connection points for everything from landmines to battle ropes.
Rebecca Coford, group training business solutions manager for Matrix, says that helping customers understand their space and what's needed to accommodate different types of programming and equipment has become a big part of Matrix's business. "We work with them on layout and help them to choose the right equipment and the right program for the space," she says. "We help them define space. Oftentimes it's a matter of walking a facility and looking for little places where you can move things around and create a training zone. And sometimes it's a renovation of a racquetball court, which I find myself doing more and more."
But Matrix's expertise doesn't end with the physical space; the company can also help with the tangential details. Coford says it's common for club owners to bring together a great space and then struggle with the operations side. "They don't always understand all that they need to do to make it work," she says. "There's a lot to consider. For instance, how do you set up your fee structure? What's your marketing plan? Who are you reaching out to? Which demographics are you serving?"
---
RELATED: Find more solutions for your facility in the Buyers Guide
---
For Gerke and his team, the move to Matrix solutions was an easy decision to make. Not only can MX4 be tied directly to revenue, it has proven so popular with members that 10 Fitness has retrofitted a number of its clubs to accommodate the program. However, with 10 clubs in service at the time it first deployed Level 10, the company was concerned with ensuring that whatever solution they chose would work in every club, even in those with limited space.
"It definitely fit the bill for that. It's a very efficient use of space. But it's also an easy-to-understand format as far as the workouts go. It's not necessarily repetitive from an exercise standpoint, but from an actual workout format it's pretty similar every day," Gerke says. "So it's easy to understand and comprehend. When you get into group workouts, and you're moving from station to station, exercise can sometimes get confusing, and that's just not the case with MX4."

Programming like the boutiques
When Justin Noel, healthy living director at the Cleveland County Family YMCA in Norman, Okla., realized that members were going elsewhere for group exercise, he knew there was a problem. Part of that problem was perception, but another factor was a lack of space or an attractive programing offering.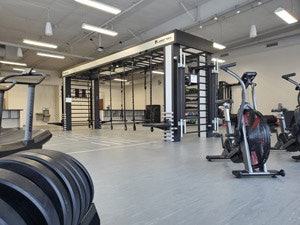 While YMCA of the USA is a globally recognized non-profit, it's not typically in competition with the higher-priced boutique gyms, and Noel says he was frustrated that a lot of his members were going elsewhere. "A lot of our members will seek out other gyms or fitness studios like an Orangetheory, CrossFit, a Barre studio or a yoga studio," Noel says, "and we were really kind of tired of that."
The solution to Noel's problems came in the form of Precor's Studio 7, a complete programming offering that the Cleveland County Y launched as a standalone studio called YMCA Evolved at a location that sits less than a mile from the main YMCA.
"Studio 7 gives us an opportunity to kind of plant our flag in the ground and just say, you know, we're here to compete with all the other fitness boutique or fitness studios here in Norman," Noel says, "and your money is staying with us, with the Y."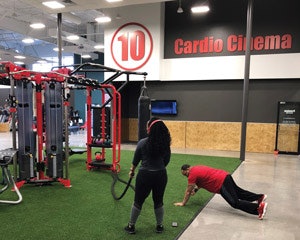 Like Matrix's MX4, Precor's Studio 7 centers around a functional training system called Queenax.
"Queenax is a modular platform that can be configured in myriad ways to accommodate nearly any space or program intent — from mind/body programming to metabolic conditioning and HIIT workouts," says Tillinghast, who likens the system to Legos, as the company offers configurations as small as a single beam to structures that cover an entire group exercise studio.
The Evolved Studio resides in a unit at the end of a strip mall and currently features a large Queenax system, four treadmills, two Aerodyne bikes and two HydroMassage beds, as well as two bathrooms. "We can fit about 16 for our Studio Ignite class and then 12 for our Studio Lean class," Noel explains. "We don't feel crammed at all with it by any stretch of the imagination."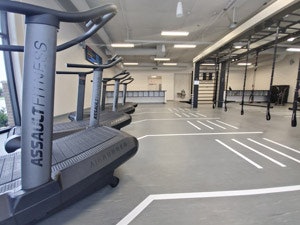 Tillinghast says that operators are always challenged to offer competitive programming and retain coaches, suggesting that turnkey programming is one way to ease at least one of the pain points in that process.
"Facilities may struggle to offer competitive group training rates to coaches, which can be a hindrance to retention or deter interest in investing time in developing and implementing great programs," she says. "As such, purchasing programs from program development companies and vendors can be a sound way to reduce barriers to entry for staff, and ensure content quality and consistency for exercisers."
Noel says having a program to lean on has improved the quality of the classes he's been able to offer his members.
"In the past, whenever I would teach, I would just teach what I thought would be a good workout for me that day," he says. "I wouldn't really consider everybody else. The great thing about what we're doing now is I can get everybody in one room and it's preprogrammed, and all my coaches have to do is run the program like it's designed and then you're going to get everything right."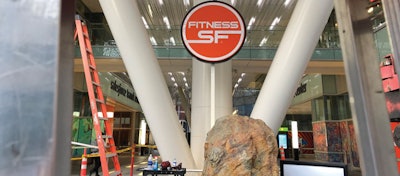 Flagship for athletes
SF Fitness' previous flagship location was a posh club located in the Twitter building on Market Street in San Francisco. That will all change when the chain's eighth location opens in the Salesforce Transit Center in the city's Financial District. The new 36,000-square-foot facility will feature a 10,000-square-foot athletic training center that's been completely outfitted by Eleiko, which also consulted on the design of the facility.
Douglas Malagon, director at the new location, says the athletic training center, which is divided down the middle by a generous 40-yard stretch of turf, is meant to meet a variety of needs — from personal and small-group training to accommodating non-stop group cycle classes that are programmed by content streaming through a giant, wall-sized LED screen.
"It's just a massive facility that's dedicated to sports performance," Malagon says. "We can train anyone in there, from a high-level athlete to the high-tech and financial crowd."
Representatives from Eleiko helped in ensuring the training center had everything it needed to achieve that goal. From 16 Eleiko platforms to sleds, plyoboxes and rowers, the space is set up for versatility.
"I know the owners really wanted to make their mark on the city with this club, and they wanted to attract a lot of athletes that are here in the city," Malagon says. "And I know that they really shared that with Eleiko — that they wanted to build the best performance-based gym out there, so that we draw that demographic."
---
This article originally appeared in the January | February 2020 issue of Athletic Business with the title "Can an equipment manufacturer help you take on the boutiques?" Athletic Business is a free magazine for professionals in the athletic, fitness and recreation industry. Click here to subscribe.