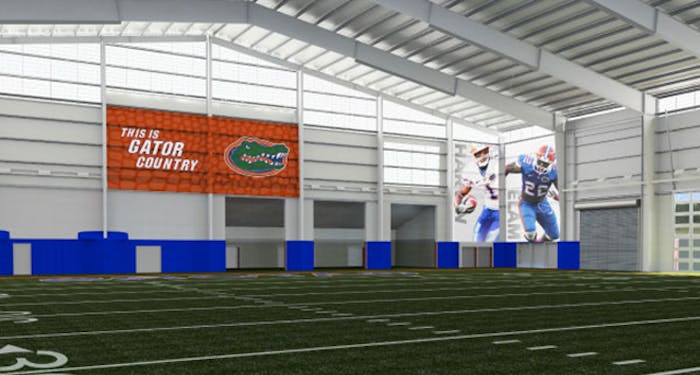 It's a new era for Florida football. The Gators recently hired a new coach in Jim McElwain and he'll soon have a new practice facility for his team.
Florida, the lone team in the SEC currently without an indoor practice facility, is moving forward with plans to build one. The University Athletic Association announced Wednesday morning that construction will start this week on a new $15 million project that will be ready to use by early September.

"This is something we have talked about internally for some time," Florida athletics director Jeremy Foley told the school's website.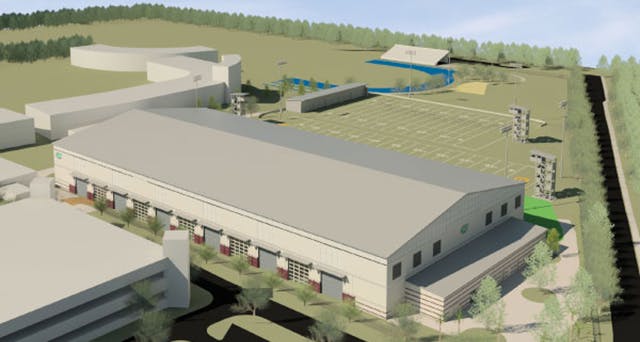 Currently, the Gators have no designated indoor practice space. When inclement weather strikes, the team is occasionally able to move into the O'Connell Center (home to men's and women's basketball) or Florida Gym. Sometimes practices are cancelled completely. The school's website estimates that 30 football practices were impacted by weather in 2014 alone. In the ultra-competitive world of major college athletics, that is unacceptable.
"Some would argue it's about the arms race, but really, [indoor facilities] do play a pretty important role in providing an all-weather practice space," Joel Leider, vice president of SportsPLAN Studio in Kansas City, Mo. told AB for our November feature on modern indoor football facilities.

"Football teams have 120 guys on them," Leider said. "That's a lot of people to have concentrated on a single practice field. The ability to run inside and out when the weather changes or to do drills is pretty important."

Florida's facility will house a 120-yard synthetic turf field, additional space for practice drills, three camera platforms, satellite training-room facilities, equipment storage and restrooms.

RELATED: 7 Tips for Keeping Athletic Storage Rooms in Order

The estimated $15 million cost of the project will be funded through private gifts and capital financing. The project designer is Davis Architects of Birmingham, Ala.

There is no word on the indoor facility being converted into a giant moneymaking party venue on game-day à la Oregon.

RELATED: Designing the Modern College Football Practice Facility