Remember when the University of Oregon changed the look of college basketball with its evergreen-silhouetted court at Matthew Knight Arena in 2011? Or when Florida International University's beach-towel-themed court raised some eyebrows in 2013? The two are notable examples in a growling list of unique court designs. past summer, the University of Maryland unveiled its new flag-bordered design at the XFINITY Center; Northern Kentucky University unveiled a floor "watermarked" with a Norse ship at BB&T Arena; and a handful of NBA teams unveiled new court designs. "Over the past four or five years, there's been a tremendous focus for branding opportunities on basketball courts and getting your message out," says John Prater, president of Chattanooga, Tenn.-based Praters Athletic Flooring, the creative spark behind some of college athletics' most iconic basketball courts.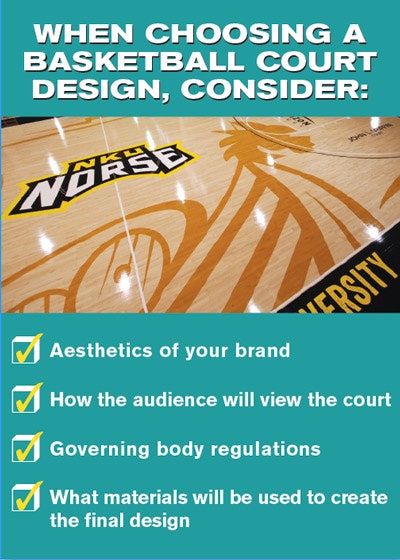 Expressing the team brand — and promoting it with information such as a URL and Twitter handle — in the court design has become a staple of professional and collegiate basketball teams, but Prater estimates that half the work his company did this past summer involved applying that same design approach at the high school level. "It's definitely dropping into the secondary school market," he says. "People watch basketball on TV and see the floors the colleges and the pros have, and they want to do it."
The process by which designs are brought to fruition is not as daunting as it once was. "We used to have to project the image onto a sheet of paper on the wall and draw it out by hand, then go over it with a star wheel," says Mike Baseman, president of Baseman Floors in Appleton, Wis. "Then put the paper down on the court and go over it with a graphite pounce pad, draw it out and paint it."
Rather than tracing designs by hand, computer-generated images are turned into giant stencils using a plotter. "It has opened things up so that we can do things that were prohibitively expensive," Baseman says. "Once you open things up, everybody goes wild with design."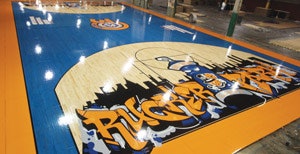 THE CREATIVE PROCESS
Athletic programs needn't have a design in mind when they set out to brand their courts, but they should know some basics. "We get a call from a customer, and we start with, what are your colors, and do you have a logo?" says Mark Frainie, creative director at Praters. "We can design one for them or they can choose one. From there, we have a conversation about the direction they'd like to see the floor go in, and we supply two or three full-color digital layouts. They can choose elements and combine them, or we might go back and forth until we settle on something they like."
The design may go through 20 or 30 iterations before hitting upon the one that wows the customer, or it might be the first one that strikes a chord. In some cases, a sampling of finalists is turned over to fans to vote on a favorite — a good marketing move, Prater says. "This event has been created to garner fan participation. Who better to design than somebody who has a vested interest?"
Professional organizations often have style guides that dictate their branding, as well as trademarked logos, and colleges may be obligated to incorporate a conference logo into court designs, but at the high school level, there is more freedom to go in whatever direction the organization wants. "I caution our customers: make it bold, but bold does not mean gaudy; make a statement," Prater says.
The design should consider not only aesthetics of the brand, but the viewing environment. "If you're doing a 5,000-square-foot middle school and try to put Oregon's court in there, nobody will ever know what they're looking at," explains Frainie. "It's built to be seen on TV or in an arena setting. Why put something on your court that's so big that no one will ever be able to take it all in at once?"
Prater offers a contrasting example in the courts designed for last year's CBS Classic in Chicago. "We did these huge logos for the four teams that were participating, and we got eaten up on Twitter. People were calling for the designer's head," he says. "Our thought was that if someone was channel-hopping and they came across this floor, there would be no doubt about who's playing. If the floor can get them to stop, that's a good thing. CBS loved it, the production company loved it, and the players loved it."
Some organizations prefer to take the court design into their own hands. While they welcome input and enthusiasm from a floor's stakeholders, Frainie cautions that there are limits to what they can do. "As technology gets better and better, more design firms are able to create insane drawings on Adobe Illustrator, but they never think about how to actually produce the courts."
---
RELATED:
Oregon's forest-silhouetted court
Universities Make Mark with Basketball Court Aesthetics
---
One concern, of course, is adherence to the governing body's rules for court design. For example, says Frainie, "All levels accept a quarter-inch-wide shadow line that denotes where the two-inch-wide line is. In high school you have to have two quarter-inch lines denoting the center circle. In NCAA and pro, you just have to have one." (Don't follow? That's okay; Praters also maintains a website, TheEdgegrain.com, to help others in the industry stay abreast on the rules set by the various governing bodies.)
The other major factor limiting design is the materials used to actually stain the floor. The primary options for painting the design are water- or oil-based stains. Oil-based stains have long been the preference at the NBA level, but they have their downsides. "Your color palette is limited, especially if you're trying to get something bright like a fire-engine red," Frainie says, adding that oil-based stains also are designed to penetrate into the wood, which can cause it to bleed and affect the final design.
Alternatively, water-based stains can provide a cleaner look. "The problem is that it's harder, more like glass," Baseman cautions. "As soon as you get dirt on the floor, it can get slippery."
---
RELATED: SPOTLIGHT: Indoor Sports Surfaces
---
With safety at the forefront, Praters says his team is constantly looking for new ways to push the envelope, experimenting with different materials and techniques to achieve new looks. The approach Praters uses currently is a paint/stain combination. "We put water-based paint into water-based sealers to create a stained look on floors without actually staining. With a water-based product, we're able to create any color as bright as you want, as bold as you want."
Designing the basketball court as a branding element is just the beginning, Prater says. The next step is to integrate the floor into the full fan experience. The Atlanta Hawks, for example, made headlines with a 3-D projection system last season, an event made possible in part, Prater says, by the choice of a water-based finish that reflected light better than an oil-based finish.
The Hawks drew more attention this past September with a new court designed to complement the team's new uniforms. The same synergy will be on display at Texas Christian University this season, a trend Frainie expects to grow. "Nike has really been getting involved in uniform design," he says. "Now they're taking that one step further and saying, 'Let's do that on the court, too.' "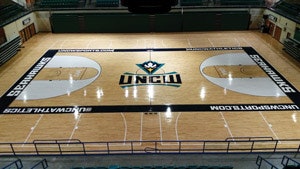 COVERING THE COST
Complex court design doesn't come without a price. At the high school level in particular, finding the extra money to afford the labor and resources to stain a floor can be a challenge, but not impossible. "In some cases, the school will raise money by having logos painted alongside the basketball court," Baseman says, noting a Wisconsin high school booster club that raised $500,000 to replace its basketball court through sponsorship sales. "It was $25,000 to get a logo along the side of the court. The end of the court, beyond the team name, was $75,000."
It's a bit more expensive than the typical high school sponsorship package, but it's a more long-lasting investment. "You're used to walking into a gym and seeing a poster on the wall," Baseman says. "When you paint it on the floor, it's worth more. With a lot of school systems going through money crunches, it enables them to do what they couldn't afford to before."
Careful planning can ease the cost even more, adds Prater, by coordinating the work with scheduled — and budgeted — maintenance. "We work with the school system to look at their courts and facilities and give them a long-term outlook for each gym. If the school wants it to look like FIU, that comes at a cost, but a lot of times the county or city is paying a portion, so it's not as big of a hit."
It's an investment that can pay significant dividends. "It's a big deal, a good marketing dollar expense, especially for a mid-market college," Frainie says. "That dollar spent is on TV every week during basketball games, viewed by millions of people."
---
This article originally appeared in the November | December 2015 issue of Athletic Business with the title "Appeal Courts"