This article appeared in the September issue of Athletic Business. Athletic Business is a free magazine for professionals in the athletic, fitness and recreation industry. Click here to subscribe.
Demand for athletic program space continues to grow, from communities taxed to find enough fields for their soccer teams to colleges looking to maintain their recruiting appeal. Creating new indoor programming options has never been easier or more affordable, thanks to advancements in fabric structure technology
"There are so many youth and adult athletic clubs, and because of daylight and weather in many areas of the county, an indoor facility gives so much versatility," says Geoffrey Ching, sales manager with ClearSpan Fabric Structures of South Windsor, Conn. "They'll see one type of structure and want one closer to where they are. We've really seen a boom in the number of inquiries and the appetite."
A tensile-fabric athletic structure allows easy expansion of interior programming, even more when those building them think beyond their immediate needs and see the potential. Before investing in a fabric-structure athletic facility, however, organizations should consider the following to ensure they're maximizing their investment.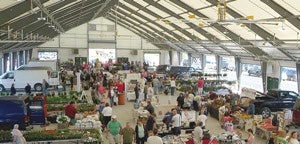 ALTERNATIVE USES
More field time for local soccer programs may be the initial goal of a project, but once the building is up, what are the other possibilities? Can it host other sports, athletic camps or large gatherings?
"People are looking for more flexibility in their structure to do things beyond sports," says Rennie Turner, niche consultant with South Haven, Minn.-based Legacy Building Solutions. "Most clients don't have that cash in their pocket; they have to get a loan, provide a performance package, and they will want to show that the structure's going to be viable, which depends on getting as many people paying to use that building as possible. If you're going to spend this much money, don't just do it thinking you're just going to play tennis."
---
More from AB: Maximizing Field Use and Budgets with Seasonal Domes
---
Such considerations will have an impact on the size of the overall facility. Volleyball, tennis and football all have different clearance requirements, for example, and including a track around the perimeter of an athletic field will push the dimensions, as well. Over the past couple of decades, Turner says the average size of tension-fabric athletic structures has grown to the point where 200-foot-wide spans have become a common choice.
"First and foremost, we want to know what the customer wants, what space requirements they have in mind," says Ching. "If permits are necessary, we're working with local building officials to make sure that aspect goes smoothly for the customer."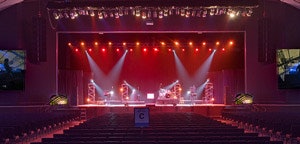 This line of thinking extends beyond the dimensions of the playing area. "If you're designing a series of basketball courts, it may be in a standalone facility with minimal spectator seating, or the customer may want several thousand seats or elevated viewing decks for hosting tournaments," Turner says.
Such venues can also be used to accommodate graduation ceremonies, public speaking events, parties or other large gatherings. "We've had people do full gym facilities with weight rooms, paintball or indoor remote control car racing," Ching says. "It extends beyond athletics."
---
More from AB: Fabric Structure Makers Re-Educate Following Cowboys Facility Collapse
---
The more people in the structure, however, the more complex the building requirements. Adequate restrooms and support spaces will become important, as will safety requirements related to egress and fire-suppression. The number of spectators and type of activity might impact the acoustic design and air-quality system requirements, as well. "They've evolved to the point where most states have energy codes that need to be followed, and that has evolved into a building that has to meet all the codes," says Turner. "If you follow the local building code, that will determine the flexibility that you're going to have."
Not only do organizations need to think about the current possibilities for a facility, but also the future. Ching says ClearSpan's reputation for indoor tennis facilities has caught the attention of another up-and-coming court sport — pickleball.
Though designed for permanence, some fabric structures do maintain an element of temporality. "They're engineered for permanence but designed to be relocatable," says Jim Avery, vice president of Sprung structures in Salt Lake City. "You can have it on a piece of land for five years and then move it to serve a different purpose or sell it."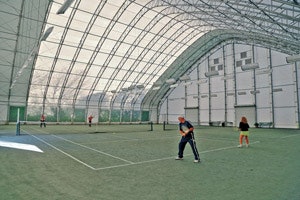 OPERATIONAL EFFICIENCY
The construction cost and timeline are part of the appeal of fabric structures, but once online, the savings can continue to add up. "Operating costs are one of the most important factors," Avery says. "People have spent an enormous amount on arenas and can't afford to operate them."
With proper insulation, a fabric structure can be heated and cooled for significantly less than a traditional structure, says Avery. "You can't have insulation as an afterthought. Proper insulation is critical to lowering HVAC costs and making a tensioned membrane structure a viable solution."
A single-membrane structure will let in more light but also more cold air, whereas a double-membrane structure can offer a higher insulation value but bring in less natural light. "The trend now is to have a combination of fabrics or membrane structure with glass so you can look out from your gym and incorporate daylight," Avery says.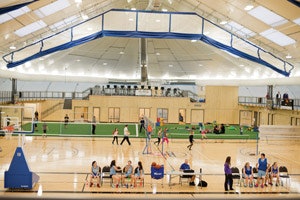 In southern climates, some organizations may opt for an open-air design, foregoing the heating and cooling systems for more of a pavilion-style structure with natural ventilation. In warm-weather climates, people are more inclined to look at the building as a sunshade of sorts," Turner says. "Those are what we call open buildings, and those are simply steel frame with a roof cover."
As with so many other building types, advances in technology continue to add to the bottom line. LED lighting is finding its place in fabric-structure facilities as a cost-effective complement to natural lighting and glazed windows, and automation technology is making operations more efficient. "There are some new developments in higher R-value buildings — ways to keep the building heated and cooled more efficiently — and we're responding to those," says Turner, whose company recently completed a non-athletic project in Edmonton, Alb., that utilizes roof-mounted photovoltaic cells to run the facility completely off-grid.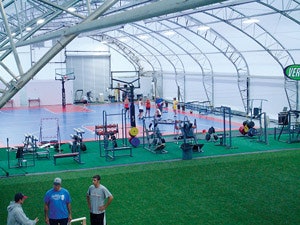 AESTHETICS
As fabric structures become more commonplace and organizations seek to expand their appeal beyond sports applications, the design moves from simply functional to something offering visual appeal. "I'm getting my share of building codes where the local planning board says one side has to have so much brick or stone," Turner says. "They don't want it to look like a warehouse. They want it to look like a sports and entertainment venue."
Technology is making building materials more efficient, but also more customizable. "We can offer an exterior membrane of virtually any color," Avery says, thanks to advances in fabric technology that make the colors more colorfast and resistant to the outdoor elements.
More architects are viewing fabric structures as another option in traditional construction, Turner says, opening up the line of communication between builder and designer. "We're also seeing a lot of projects requesting additional architectural features on the structure exterior," Turner says. "We're quite good at offering different types of membrane options, color choices, steel panels, sidewalls. We can marry stone up against our structure."
"Our competition is bricks and mortar," Avery says, re-emphasizing the main appeal — beyond evolving customization and efficiency — of the fabric structure option. "People want something that's fast — they don't want to wait two years to bring something online."
---
This article originally appeared in the September 2016 issue of Athletic Business with the title "Maximizing the benefits of a fabric-structure investment"