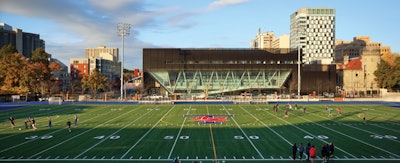 Goldring Centre for High Performance Sport | University of Toronto | Toronto, Ont.
More than one panelist used the word "drama" to describe the facility that serves as home to the University of Toronto's basketball and volleyball programs, as well as the student body at large.
As the final phase of the redevelopment of the university's varsity stadium, a signature design element of the center is its tiered fitness room that overlooks the football field through a wall of glass and mimics the raked seating beyond the field's far sideline. Meanwhile, site constraints dictated that the large field house and the strength and conditioning center be placed below grade. Still, a heroic steel frame vaulting over a cavernous excavation creates a singular public expression from the street.
Stated one panelist, "A bold structure that captures the power and drama of sport."
View the full photo gallery>>>
---
Judges' Comments:
"What an exceptional design that centers around a very clean and simple solution detailed and crafted in a very sophisticated manner." — Mark Williams
"Innovative use of a tight site. Well-planned, nicely stated. Very Toronto." — David Edmunds
"Amazing project top to bottom. A true modern design." — Steve Flanagan
---
Associated Architects:
MacLennan Jaunkalns Miller Architects | Toronto, Ont.
Patkau Architects | Vancouver, B.C.
Cost: $60 million (Canadian)
Square Footage: 140,000
Funded By: Government funds, university funds, private donations
Major Facility Components:
Competition basketball/volleyball field house, strength and conditioning center, sports medicine clinic, sports science research laboratories
---

A big thank you to our seven judges: James Braam, HOK; David Edmunds, GEC Architecture; Steven Flanagan, LPA Inc.; Anita Moran, Dewberry; Tom Poulos, Williams Architects; Chris Sgarzi, Sasaki Associates Inc.; and Mark Williams, HKS | Sports & Entertainment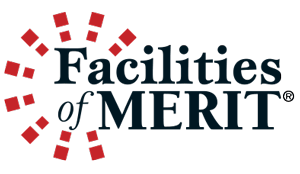 The 2015 Athletic Business® Facilities of Merit® awards were selected by a panel of sports and recreation facility architects during two days of judging in Madison, Wis. The 10 winners are being announced during these two weeks, and profiles of all 10 will appear in the November issue ofAthletic Business. The awards will be presented to the facility owners and architects at the Athletic Business Conference & Expo in New Orleans on Friday, Nov. 20.
More 2015 Facilities of Merit:
Sun Devil Fitness Complex Tempe Renovation and Expansion
Sun Devil Fitness Complex West
Branksome Hall Athletics & Wellness Centre