The Sacramento Kings and global architecture firm AECOM have finalized the drawings for their planned $448 million downtown arena. The Kings unveiled the images Monday, showing plans for an "indoor-outdoor" building that is uniquely Sacramento.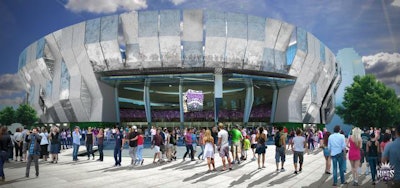 From The Sacramento Bee:

Architects gave the arena a half-block-long front entry dominated by five glass aircraft hangar doors that can fold upward to create a five-story opening, allowing people in the arena plaza and even motorists on nearby J Street to see directly into the facility.

The structure's facade is a distinctive silvery-white series of vertical panels made out of patterned glass, perforated, see-through aluminum, and Sierra limestone.

The adjacent public plaza is envisioned as a microcosm of the region's agriculture and outdoor lifestyle, with tomatoes growing in hydroponic gardens, an outdoor grandstand or grassy amphitheater facing the arena's open face, and a sunken area, called a "bosque," lined with almond trees. The arena's facade patterns – or fritting – will depict leaves and trees.

Interior designs are still being finalized, but the team intends to have 28 luxury suites and 50 smaller suites, called "lofts," that would be more intimate and targeted toward smaller companies as potential buyers.

These renderings are slightly different than the ones we saw in August. The downtown building will seat between 17,000 and 17,300 people and will be expandable to up to 19,000 seats if necessary with temporary seating. It's set to open in time for the Kings' season in 2016.

The Kings currently play in the 17,317-seat Sleep Train Arena, formerly Arco Arena. That building was finished in 1988 and cost $40 million.

What are your thoughts on the renderings? The massive entry doors remind us of the new Minnesota Vikings stadium, designed by HKS Sports & Entertainment Group. Minnesota's stadium, which will replace the 32-year-old Metrodome, will have 95-feet-high pivoting glass doors.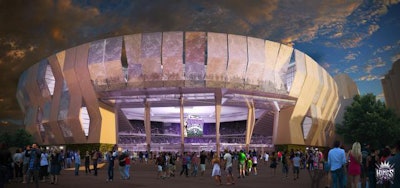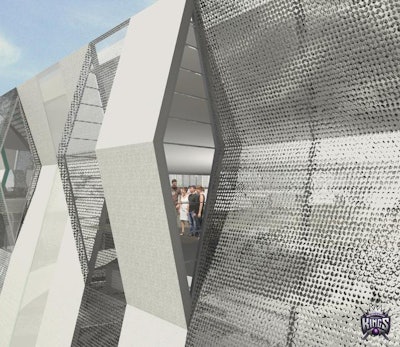 For more images, check out The Sacramento Bee's photo gallery.