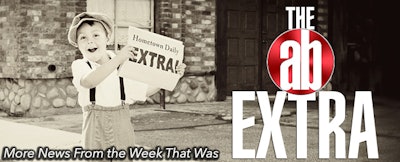 This week's AB Extra features news about angry soccer fans, a re-creation of Tennessee's Neyland Stadium in a fan's front yard and virtual reality recruiting at Michigan.
---
Angry Soccer Fans Storm Field, Chase Out Opposing Team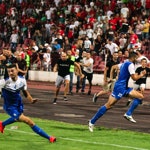 A friendly match between Bulgarian club CSKA Sofia and Israeli club Ashdod turned chaotic after CSKA fans stormed the field and threw bottles at Ashdod players.
The incident occurred after an Ashdod player received a red card for a nasty tackle and fans began throwing bottles on to the field. However, tensions quickly rose and fans started making their way to the pitch to chase players.
It appeared that CSKA players attempted to stop the mob of angry fans while Ashdod players ran around trying to avoid them.
Players from the visiting Ashdod team were able to make their way out of the stadium through a set of stairs at one end of the field, but not before things got dicey. In one video, a fan on the field can be seen throwing a bottle at one of the Ashdod players making his way for the stairs.
Check out video of the incident below.
---
Fan Recreates UT's Neyland Stadium in His Front Yard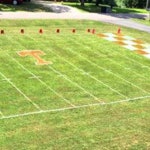 One University of Tennessee football fan went all out for his son's birthday party, recreating Tennessee's Neyland Stadium field in his front yard with a lot of spray paint.
Mark Whitehead's son Nolan is having a "Big Orange birthday party" so Whitehead took to his front lawn to make sure the party is as authentic as possible. He spray painted the checkerboard pattern in each end zone, as well as the orange "T" at the midfield of the miniature replica.
Continuing with the Big Orange theme, the tickets for Nolan's party are designed to look like game tickets.
After all of the work that went into making this a top notch party, Whitehead understandably tweeted that he may be even more excited for it than his son is.
---
German Judge Sentences Soccer Fans to Buy Rival Club Gear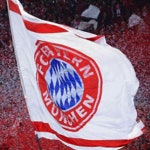 A German judge gave a pair of 1860 Munich fans an ultimatum when it came to their sentencing for the attack of a Bayern Munich fan in 2014: go to jail for 15 months or buy the victim a new jersey, scarf and hat at the Bayern Munich team store and pay €500 restitution.
The two attackers, who refused to name a third who was with them, went after the Bayern Munich fan on a subway after a game between 1860 Munich and Bayern Munich. They ripped his shirt and jacket and threw away his Bayern Munich hat.
Judge Karin Jung decided to teach the attackers a lesson and gave them the option between jail time and purchasing the victim some new gear. Jung first got consent from the victim to offer the unusual sentence.
The 1860 fans unsurprisingly chose to pay up instead of go to prison.
"I thought about what would be really painful to them, and doing something like this really bothers this type of people," said Jung.
---
Michigan Bringing Virtual Reality to Their Recruits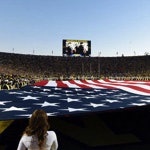 The University of Michigan is trying out a new recruiting technique that change the way colleges recruit potential players.
They are utilizing virtual reality technology to bring the experience of playing at the Big House to prospects sitting in their living rooms.
The recruit simply slips on a pair of goggles and a set of headphones and are instantly transported to Ann Arbor. This new technology gives recruits who are not yet qualified to visit campus or can't for whatever reason, the opportunity to "see" the stadium where the University of Michigan team plays, as well as other parts of Ann Arbor.
Everyone who's tried the technology, which will be implemented this fall, was very enthusiastic about it.
"The fact that it was immersive, it really captured emotion," assistant coach Jay Harbaugh says in the promotional video. "You didn't feel so much like a spectator. To be that program and university that's setting the bar high is something that's exciting for everybody."
Get a taste of what recruits will see yourself.
An immersive experience is coming. #GoBlue pic.twitter.com/stKljoCRkv

— Michigan Athletics (@UMichAthletics) August 4, 2015
---
Buccaneers Look to Teach Women Football with New Website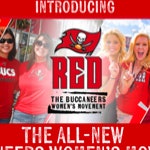 On Thursday, the Tampa Bay Buccaneers introduced the RED Women's Movement, a website dedicated to teaching women the rules of football and giving them fashion and cooking tips for game day parties.
Here's a snippet from the website about its purpose:
"RED will re-invent the female fan experience by providing insight into topics such as: what goes on behind the scenes on gamedays at Raymond James Stadium; how to maximize their gameday experience; how to blend personal Buccaneer pride with the latest NFL fashions; as well as tips on sharing their experiences and ideas via social media platforms such as Pinterest."
Unsurprisingly, this didn't go over particularly well with many people and was widely labeled as sexist. The Pinterest board includes topics such as recipes for gameday tailgates and ideas for Bucs themed hair and makeup.
The Bucs didn't comment on the initiative, but Twitter users were quick to make their opinions known. Here are a few:
I don't see what's sexist about Bucs' RED dealio. It merely tells women what to cook & wear & assumes they don't know foot…OK now I see it.

— Steve Greenberg (@SLGreenberg) August 6, 2015
About to edit a football package. I better check w/ the Bucs #RED movement to make sure I am dressed appropriately & what snacks to serve

— Katherine Smith (@katsmithsports) August 6, 2015
---
Check out the AB Extra from previous weeks:
July 31
July 24
July 17