National Tours Spur Grassroots Interest in Sports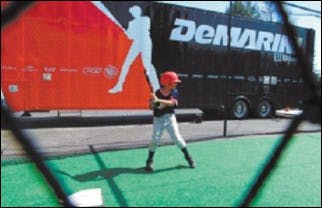 Of all the ways to attract attention, it seems that Wilson Sporting Goods' "DeMarini Experience" may be one of the best. Equipped with a full-length batting cage, a pitching machine, a sound system, baseball and softball products, and staff living quarters, this 60-foot, 18-wheel tractor-trailer can currently be seen pulling up to numerous sporting goods stores and baseball and softball events on its 20-city, seven-month tour of the West Coast.
Once parked at a site, staff members invite fans young and old to practice pitching and hitting with a full line of equipment, as staff members give tips and answer questions. Since setting out for its first tour ever in April, the semi has already been a huge success, according to Aaron Wryn, grassroots manager for Wilson Sporting Goods, which acquired DeMarini Sports last year. "I've seen older guys who haven't been in the cage for five or 10 years go in there with the biggest smiles they've ever had," he says.
Motivations for the tour are twofold - marketing DeMarini baseball and softball products and stirring up interest in sports. Wryn, who has coached baseball for 12 years and who travels as a staff member on the tour, says it means more to him than just marketing. "As a businessperson, you're always there to sell your product," he says. "But I'm not focused on sales. I give batting tips, so I'm able to help the little kids, and the parents really appreciate that. It's more of a feel-good, grassroots campaign."
Since the inaugural tour is moving along smoothly - the only glitches being a few scheduling problems - plans for expansion of the program in future years are already in the works. Planners are considering adding another semi next year to tour the East Coast. Eventually, they hope to have a fleet of trucks traversing the entire country.
Wryn says that the tour, which ends in late October, has already attracted thousands of participants. The concept works well, he says, because instead of having potential customers seek out assistance, it brings the products and activities to them. "Maybe they need a new glove," he says. "They can put that off for a long time. But if we're coming to them, showing them and telling them all the intricacies of a glove, as well as answering questions, that leaves a lasting impression."
The "DeMarini Experience" is only the most recent entry into cross-country, grassroots touring. Others continue to make an impression after a decade or more on the road. For example, the 13 year-old Hoop-It-Up ® 3-on-3 basketball and 3-v-3 Soccer Shootout national tours have shown a steady increase every year in participation numbers, spectator turnout and the number of cities visited.
Hoop-It-Up began as a 16-city tour, and has grown to include more than 40 cities this year, while the Soccer Shootout has expanded to more than 60 cities. By the time the eight-month-long Hoop-It-Up season ends in October, program planners expect it will have drawn almost 200,000 participants and one million spectators.
Created by Host Communications, a sports events and affinity marketing company, both tours are designed to increase interest in sports, as well as give sponsors a grassroots marketing opportunity. The more popular the tours become, the more they can also benefit local parks and recreation programs in the cities they visit by inspiring a passion for sports and boosting sports participation.
The average cost per team varies by city, but usually is little more than $100. A portion of the proceeds goes to various charities throughout the United States (more than $4 million from the Hoop-It-Up tour has been donated to charities since the tour began).
Hoop-It-Up is open to basketball players of all abilities, ages eight and older. Divisions include Kid (teams with all players 10 and younger), Teen (teams with all players 17 and younger), Adult (teams with at least one player older than 18), Top Gun (college experience or better) and Older Than Dirt (age 35 years and older). The weekend tournament also includes a number of sideline events for spectators, including a slamdunk competition and Velcro ® wall and climbing wall activities.
Both the basketball and soccer tournaments are held at each city for an entire weekend, with staff members arriving on the Wednesday or Thursday before the tournament to begin setting up basketball courts or soccer fields. Planners prefer to keep tournament sites as close to a city's downtown as possible, and usually are required to rent space. Portable basketball courts, about half the size of a regulation court, are usually set up in parking lots or other open concrete areas for the Hoop-It-Up events, while the soccer fields, which are about a fourth the size of a regulation field, are typically set up in city parks and other open fields.
A typical Soccer Shootout event will involve about 200 teams, though some tournaments can attract up to 700 teams. Each tournament benefits a local soccer club by giving it $10 from each team fee in exchange for the club's help in finding volunteers and running the tournament. A 200-team tournament will call for one full-time staff member, two interns and about 20 referees.
The soccer tournaments are especially popular with kids, particularly those in the U-10, U-11 and U-12 divisions. "After talking to kids at tournaments, I see that it makes soccer fun again," says Peggy Bowersox, event director for Host Events. "It's not a totally competitive tournament; it's like playing soccer in your backyard. The kids like it because they don't feel the pressure they do in regular tournaments."
Although it's not nearly as competitive as other tournaments, the Soccer Shootout invites the top four teams in each division to go on to regional tournaments, and the top four teams in each division from regionals play at a national tournament in January.
"The goal is to supply kids with outdoor activities and to make sports fun," says Bowersox. "I have a physical education background, and I see the obesity in children increasing. This is something where we get the kids moving for a full weekend."